An Energetic Achiever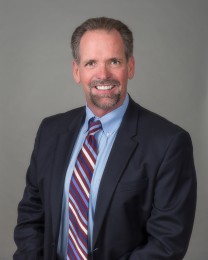 Todd Carrier is no stranger to the energy business. He has worked in sales and marketing in the energy and environmental field for more than 30 years, and started his own company, JessCo Enterprises, LLC 24 years ago. He also runs a small music business with his son, Carrier Tunes, and has lead worship services at churches in California and Illinois. In between all that, he's found time to have a successful marriage with his wife of 31 years, Tina, and raised their daughter, Jessica, and son Jared, both of whom are Senior Consultants with Ambit.
Todd says "Owning a marketing company is like being in a Mario Brothers video game—you're always trying to get in and out of markets to ride the waves to profit without falling into financial holes. I did pretty well until 2008 when the recession hit. That's when I started focusing on my plan 'B' Ambit which has now become my plan 'A'."
A Natural Fit
Energy was a natural fit for Todd, given his experience in the business and his complementary environmental product and service marketing. "Energy and environmental fit very well together," he says. "I feel I am one-third of the way to complete financial freedom with Ambit Energy as my long-term vehicle."
Still, despite his market knowledge and the support of his family and friends, Todd faced a major challenge getting his business up and running: Ambit's rates were higher than some of his competitors in Illinois. His solution was to sell the complete Ambit package, emphasizing service, support, and perks like free energy. Later, when Ambit's rates fell, he was able to be even more competitive and promoted to EC in just over two years.
"Building this business has been the hardest project of my life so far. There are so many aspects I can't control. But teaching others how to sell and recruit, then seeing them succeed and promote is more rewarding than I ever dreamed."
Learning to Lead
Todd had run his own business for many years, but he'd always been self employed. He warns other Consultants against repeating his mistakes. "I have not focused on training nearly enough. I closed way too many deals for people and made them dependent on me instead of learning for themselves. The only backend positive is that some of them learned by osmosis and the Consultants I spent a lot of time with are getting really good at this business." It was only by trial and error that he learned that leadership is about teaching others to lead, not trying to do everything himself.
As he strives to reach National Consultant, Todd plans to build on the lessons he's learned. "I have an established speaker rotation and we have been running weekly meetings for 2 and ½ years in Southern Illinois. I am now going to work the phone nationwide and use proven techniques to identify leadership talent." He plans to visit unregulated markets to expand the borders of his business.
Given his history of building successful businesses, we expect to see Todd create a perfect environment for growth for himself and his team as he moves toward National Consultant.
Five EC Pieces
(please keep your answers in this section brief - no more than one short sentence)
My/ our "Why?"
Financial freedom and a balanced life
Time spent working my/ our Ambit business:
Fulltime
What was your single most-effective Success Tool, factor or influence for growing your business?
Team
Name your favorite thing about AMBITION:
Meeting the mentors and the nuggets that they give
Thanks to the five SCs who helped me/ us reach EC.
I definitely want to thank my SCs Matt & Shawn Howland, Billy Ames, Michelle Vogt and my '2' college kids Jessica and Jared who will be working alongside me growing their SC business to the Executive Consultant position.
---
Featured Consultant
At Ambit Energy, we're inspired, proud, and even awed by the success stories we hear from our Consultants every day. Learn what motivates some of our top Consultants, read why they decided that Ambit was the right company at the right time, and maybe even pick up some inspiring tips to help you build your own business and achieve a similar level of success!