An Energetic Energy Expert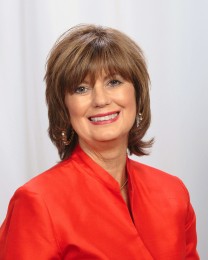 Tina Henderson has a strong background in energy, with more than 22 years in the oil and gas industry. She's also an energetic community leader, working hard for her church, a Board member of her local Chamber of Commerce, a local family shelter for battered and abused women and children, her woman's club, her homeowner's association and more. An outgoing, busy people person, Tina enjoyed attending networking meetings hosted by the Chamber of Commerce. That's where she met Esther Spina, and discovered a profitable new way to put her people skills to work.
"The strong leadership of the company is what impressed me the most. At first I was a little embarrassed to tell people I was with a MLM, but I really became confident in the company when we made the Fortune 500 Number One Fastest Growing Company in America."
Tina found her opportunities growing, too. "It took me longer to become an Executive Consultant than some people and I almost gave up because I felt like a failure at times. But I am here to prove that a consistent, persistent effort pays off." And pay off it has. Tina is now able to work her Ambit business full time, as well as treat her husband to a Harley Davidson motorcycle, her grandson with a trip to Disneyworld and her late mother to one last grand time together.
Making Ambit A Family Business
For Tina, Ambit is a family business. Early on, she was reluctant to share Ambit with those closest to her, but as her success grew, so did her confidence. Today, her son and her 81-year-old father are both Senior Consultants.
Tina believes Ambit has made a true difference in her life, and the lives of others. "Creating a life-changing residual check for my dad and son has been one of my proudest accomplishments. Seeing my Consultants promote is always a proud moment for me. I get more excited than they do!"
Being a successful Executive Consultant has made a difference for Tina, too. "I am more positive, more self-confident and feel I can have an impact on others." She credits Ambit-ious Women and daily phone contacts with her Consultants with playing a major role in helping her build her success.
Taking It To The Next Level
Of course, Tina looks forward to taking on the next phase of her Ambit career the only way she knows how—with energy. "I aspire to be a leader and help others achieve their financial freedom number. I would like to use my talents more as a speaker and event organizer," she says. Of course, she also wants to have more time to spend with her family, especially her grandson, and volunteering at her church.
For those who seek to emulate her success, Tina's formula is simple. "Never, ever, ever, ever, give up. Keep pushing. As Brian McClure says 'Bury yourself in the success of others and yours will follow.' And take time to meet one-on-one with potential Consultants."
All good advice from a Consultant whose energy, positive outlook and hard work has led three generations of her family to Ambit success.
My "Why?"
To give back to my church and my community and to make a difference in the life of my grandson
Time spent working the Ambit business:
This one is hard as it varies.
What was your single most-effective Success Tool, factor or influence for growing your business?
Tool would have to be Success Magazine – factor would be my faith, praying and believing that God would help me grow my business and influence would be my Dad, he was always a very hard worker, a man with integrity and he taught me "if the jobs worth doing, it's worth doing right".
Name your favorite thing about AMBITION:
Hearing Jere and Chris speak.
Thanks to the five SCs who helped you promote to EC:
George Antee, Carter Hamm, Ronald Melton, Gagan Sarkaria, and Kendra Wagner
---
Featured Consultant
At Ambit Energy, we're inspired, proud, and even awed by the success stories we hear from our Consultants every day. Learn what motivates some of our top Consultants, read why they decided that Ambit was the right company at the right time, and maybe even pick up some inspiring tips to help you build your own business and achieve a similar level of success!