An Entrepreneurial Spirit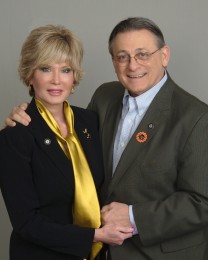 Mary Jane Beauregard and her husband John Smith are both accomplished entrepreneurs. He is the founder of one of the largest janitorial and facilities management companies in New England, and she operated a major printing brokerage firm. With their business experience, they knew a good thing when they saw it. They were impressed that Ambit didn't require anyone to change their buying habits and that it offered a way to build residual income and generational wealth. "We understood that in just five to seven years top Ambit Consultants have created the same financial independence it has taken us almost 40 years to accomplish."
Mary Jane continues, "We are laying the foundation on which to build generational wealth." That's a major consideration when your combined family encompasses six children and 15 grandchildren.
Elevating Their Game
Mary Jane and John knew they would face many challenges on their way to success. But they were determined to succeed, not only for their own sake, but for the sake of others. "Helping others realize their dreams fuels our motivation, which in turn makes our dreams come true. It's a never-ending cycle of positive energy," John says. Over the course of building their business, John has drawn on his many years of experience to bring out the best from Consultants, while Mary Jane has excelled at providing emotional support.
Their approach to working with new Consultants is simple and effective. "We mentor them about asking friends and loved ones for the favor of being an Ambit Customer. We encourage new consultants to schedule their in-home Ambit launch parties within the first week. It's a powerful business builder. Momentum is the key—we train our team to be examples of fast success," they say. The result is Consultants who both have realistic expectations, yet are able to qualify for Jump Start One bonuses in their first week.
Toward the Next Level
To reach NC, Mary Jane and John plan on focusing on new markets and hosting elite trainings for especially promising Consultants. "We are seeking individuals with strong leadership skills who have the wherewithal to use Ambit's system to propel themselves to EC," they say, "we need to replicate ourselves over and over through mentoring and discovery."
For new Consultants, Mary Jane suggests "Get a hunter mentality. Go out and get whatever it is you want. Educate yourself by plugging into the system. Mimic the actions of those who have gone before you."
It's sound advice from two people who have achieved success on their own, and reached even greater heights with Ambit.
Five EC Pieces
My/ our "Why?"
To seize great opportunity and change the course of many lives mentoring them to take charge of their futures.
Time spent working my/ our Ambit business:
We incorporate our Ambit business building into our everyday activities taking it with us wherever we go.
What was your single most-effective Success Tool, factor or influence for growing your business?
John's grit and Mary Jane's passion to help others.
Name your favorite thing about AMBITION:
The comradely, inspirational consultant stories and speakers, the integrity of our founders and how they run Ambit (a huge responsibility)
Thanks to the five SCs who helped me/ us reach EC.
"We are eternally grateful to, and most proud of, the 5 SC that propelled us to EC:
Son-in-law, Stephen Dunker, Business owner, Roselyn Langianese, Son, Michael Smith, Son, John Smith Jr, and Pastor Kimberly Stubbs."
---
Featured Consultant
At Ambit Energy, we're inspired, proud, and even awed by the success stories we hear from our Consultants every day. Learn what motivates some of our top Consultants, read why they decided that Ambit was the right company at the right time, and maybe even pick up some inspiring tips to help you build your own business and achieve a similar level of success!