An International Success Story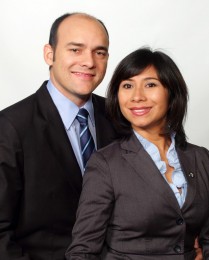 Cecilia Pizarro is a Civil Engineer originally from Ecuador; her husband is an Agricultural Economist from Brazil. When they were first married, they lived in Chile, until he was offered a job in the United States. When the dust from all that moving finally settled, Cecilia found herself at home fulfilling her dreams of mother investing time for the education of her three wonderful children. However, while on vacation in Ecuador, the family got news that there had been a round of layoffs at her husband's organization. While he was not one of those who lost a position, Cecilia was worried. What if he had been? He was the family's only source of income. She decided to look for an opportunity to put her skills back to work.
That's when an old friend from Pennsylvania found her online and connected her with an Ambit business presentation. Cecilia and her husband were impressed, and she signed up a few days later. Soon, she was off and running. "We went well beyond our expectations," she says. "I was able to give the same level of attention to our kids, which is our first priority after God in life, but at the same time I've had months where my income surpassed my husband's salary."
Triumphing In Adversity.
Suddenly, though, Cecilia's business became the least of her challenges. In 2012, she was diagnosed with cancer, and had to go through a treatment that included three surgeries. Even so, she never gave up, signing up one consultant while still in her hospital bed! "Believe it or not, seeing the achievements in my work and how people joined the business every day was a big boost of encouragement. While I was in bed people were joining the business and I was getting paid for that."
Thank God Cecilia is totally recovered from this trial. The good news not only came from the health side, but also from blessings in their finances and from being awarded as a new member of Ambit's Five Star Club in 2012. This gave Cecilia and Jozimo the opportunity to spend five days in Bermuda with Ambit Co-Founders. "Communication and capacity building are the two main routes I've used to sustainably grow my team. I go out every working day to present the businesses with one of my consultants. Now I'm working toward my goals of achieving complete financial freedom, help my leaders to attain their financial goals, and getting my yellow jacket."
A World Of Opportunity Ahead.
As an Executive Consultant, Cecilia sees new opportunities ahead. "I believe this new status will help us show success to others that want to join the business, but the experience that comes as a consequence of advancement is what will be the key for us to achieve our growth objectives. We are just starting!"
Cecilia strives to see big changes in the lives of others as well. "I want to see my team benefiting from this business as much as I do and playing a very important role in changing the lives of others," she says. "In 2013 I want to make better use of technology for communication, business presentations and training so we can take opportunity of so many new markets been open in Maryland."
As a final thought, she says, "Never be discouraged by people's pessimism, which is a loud voice speaking about their own failures. Have a work philosophy that inspires integrity, honesty and respect to others."
My "Why?"
Always have enough and opportune time with God, family and friends.
Time spent working my Ambit business:
Started spending 3-5 hours a week but currently spending 15-20 hours a week.
What was your single most-effective Success Tool, factor or influence for growing your business?
Being part of an outstanding team that was committed daily to presenting this business opportunity to as many people as possible.
Name your favorite thing about AMBITION:
Great interaction with Ambit's family and learning from other's experience how to get to the next level
Thanks to the five SCs who helped in the journey to becoming an Executive Consultant.
Maria Dolores Benitez, Maribel Meza Vargas, Miguel Ayona, Myrian Pizarro, and Reina D. Zavala
---
Featured Consultant
At Ambit Energy, we're inspired, proud, and even awed by the success stories we hear from our Consultants every day. Learn what motivates some of our top Consultants, read why they decided that Ambit was the right company at the right time, and maybe even pick up some inspiring tips to help you build your own business and achieve a similar level of success!