An Outstanding Performer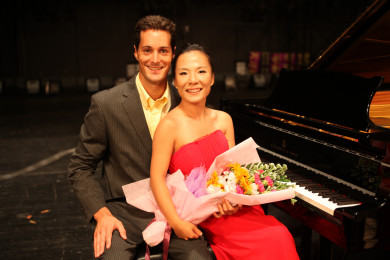 Wenqing is a professional musician with a doctorate in classical piano performance and literature from one of the most prestigious graduate schools in the nation. While on the road traveling and performing, Wenqing was looking for opportunities, not only to find financial freedom, but also to help others and repay her parents for their sacrifices in helping her achieve her goals.
"Before Ambit, I used music to change people's life, their souls," she says. "With Ambit, I believe I have found a way to change many people's lives, including mine and my husband's." Her frequent travel and lack of long-standing business connections made starting up her business a major challenge. Still, Wenqing persisted. In fact, her most difficult Customer was probably her fiancé, Aurelien Bouche-Pillon.
"With his European background he believed in the traditional business format. But six months after I started, he met Jere and Chris in person at an event in Baltimore. That's when he joined me in this journey to help many people to have dreams of their own."
Working In Harmony
For Wenqing, winning the support of Aurelien was her most important achievement. "His transformation was my initial and crucial success with Ambit," she says. The duo teamed up to organize training for their growing team and get up to speed on the company, which was not yet active in Rochester, NY where the young couple lived. "I didn't have a presentation, or DVD, or any of the information. Our team had to work hard to support each other. When Ambit became active in our market, things really got started."
For Wenqing and Aurelien, Ambit was more than just a business opportunity. "Our Ambit journey has made an even more solid bond between us and given us a chance to reevaluate our relationship choices. So, we are successful together in Ambit and in life!"
Working together also allows Wenqing and Aurelien to use their respective talents. " I have discipline and focus, which I learned from music. My husband's strength is his people skills. He loves people, he loves life. The goal of living a good life and sharing this high quality of life with others are his strength and motivation. " Success That's Music to Their Ears
"Our goals get higher every day. We believe by helping people to reach their dreams, we reach our own. Every new Consultant who joins us, every new Customer we enroll, every promoted member of our team takes us closer to our goals."
"We advise that new Consultants work the Ambit every day, even if it's just one phone call, and always stay positive. It's an approach we have used to perform brilliantly."
Our "Why?"
Building retirement for our parents, fully enjoy our passions of life, and helping others to achieve their dreams.
Time spent working our Ambit business?
Everyday 10 mins to start with, then replace other work, now 5-10 hours a week. Everyday, even just 1 phone call.
What was your single most-effective Success Tool, factor or influence for growing your business?
Face to Face meetings, to build solid long term personal relationships.
Name your favorite thing about AMBITION.
To see many people are in Ambit, realizing we are not alone to have ambition to turn on our dreams.
Thanks to the five Senior Consultants who helped us promote to EC
Hongyu chen, Xiaoyan Li, Jie Viviano, Xiaoling Qin and Aurelien Bouche-Pillon
---
Featured Consultant
At Ambit Energy, we're inspired, proud, and even awed by the success stories we hear from our Consultants every day. Learn what motivates some of our top Consultants, read why they decided that Ambit was the right company at the right time, and maybe even pick up some inspiring tips to help you build your own business and achieve a similar level of success!