Around the World and Back Again – to Success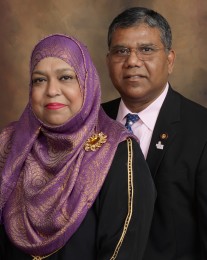 It Starts with a Dream
MD Rana came to the U.S. from Bangladesh with a simple dream—to achieve success. He tried a variety of jobs, working as a taxi driver, a limo driver and owning a number of businesses before he was able to go to college and obtain a degree. After graduating, he went to work as a Consultant and traveled the world working for various companies. Eventually, though, life away from his family took its toll. He became and Ambit Energy Consultant, and achieved immediate success.
Then, a few years ago, "I went through a major life-changing event," MD says. "I lost most of my team and leaders. That simply ruined my income and structure." At the same time, his wife was diagnosed with a life-threatening illness and broke her ankle, and both his youngest brother and his mother-in-law passed away.
It was mentally challenging, and psychologically devastating. "I was desperate and confused, and I almost quit," MD admits. "All I had was my faith and a strong belief not to give up."
Fighthing Back
Despite his setbacks, MD drew on his personal faith, and his belief in Ambit Energy. "I have tried all kinds of ways to make a living, and I have never seen the success I've seen with Ambit. I paid attention and attended training and followed leaders like Brian McClure and other top earners." Determined not to give up, MD set about rebuilding his business. "I kept sharing the Ambit Opportunity with everyone I met," he says. "Some people laughed at me, but I kept on. I always remembered that 'Winners never quit and quitters never win.' When I see Ambit, I see hope."
And, slowly but surely, MD began to rebuild his team. "I'm blessed to know them and be associated with them," he says. "They have changed my life."
Foundations for Success
MD credits much of his success to Ambit's culture. "My grandmother taught me that 'honesty is an expensive gift you don't expect from cheap people.' I find that in Ambit's motto 'Never sacrifice integrity for growth.' I know that if I work hard and follow the system, the system will reward me. I was hungry and coachable. With Ambit Energy my life is great, but the best is yet to come.
---
Featured Consultant
At Ambit Energy, we're inspired, proud, and even awed by the success stories we hear from our Consultants every day. Learn what motivates some of our top Consultants, read why they decided that Ambit was the right company at the right time, and maybe even pick up some inspiring tips to help you build your own business and achieve a similar level of success!