Around the World to Ambit
Zeph Blake , Executive Consultant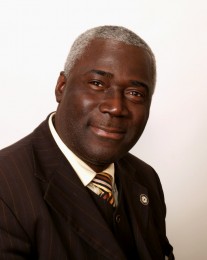 Born in Jamaica, Executive Consultant Zeph Blake actually started his professional life in his late teens. Working at the news desk of the Jamaica Broadcasting Corporation, he was able to see the world before deciding to settle in Quebec, Canada. Although he studied architecture in Canada, Zeph has also worked in the political and paramilitary arenas.
Zeph eventually moved to America to further his career as a professional architect. But he became increasingly frustrated with the business side of his field. "I was fed up with chasing after customers for non-payment long after their building construction needs were met," he says. "And going to court puts you at the mercy of lawyers."
Eventually, Zeph found an opportunity that put the power back in his hands.
"A LITTLE COMPANY CALLED AMBIT"
One of his business associates called to ask Zeph if he would "check out a little company called Ambit Energy."
"He said it was new, and that I could make lots of money," he recalls. "But I said no."
It took three more weeks to persuade Zeph to look at Ambit. He found that Ambit "was already a success" – but he wanted to make sure that the company was good and the business model was sound.
He found two things that truly impressed him: "I discovered that nobody else in the country had ever offered free energy, and I learned about the integrity of the company's leadership."
Zeph was ready to begin.
CUT OUT TO DO AMBIT
At first, Zeph's wife of 14 years was not as excited as Zeph himself. "She said that she had married an architect!"
However, she soon changed her mind when she found out all about Ambit. Along with their four children, they give Zeph all of their support.
"They think that I was cut out to do Ambit," he says. "It's more than that, though. I believe anyone can do Ambit if you put your efforts into it. Being adept means putting together application, determination, enthusiasm, perseverance and time – and it all adds up to success."
BIG EXPECTATIONS
Zeph admits that he expected to amass "tens of thousands of customers" in a relatively short time, and that everybody would understand the value of Ambit and switch.
"Wrong!" he jokes. "In my mind, my results working part-time have been good – but have not yet lived up to my efforts and expectations.
"Once I am able to devote more time to my Ambit business, I'll achieve the success I expect of myself. I believe that success comes from the innate ability to effect one's will – and that's what I plan to do." STEERING THE TEAM
Zeph likens himself to the steering wheel, and his team is the car. "I give constant direction and assistance in every way I can. Not just to my team, but anyone who calls."
He advises every Consultant to "believe the vision, feel the vision and live the vision! This is an opportunity to own and operate your business as a sole proprietor, so remember you're the operator and not a passenger!"
As Zeph reflects on the success he's achieved thus far with his Ambit business, he's grateful for all of his support. "I'm so thankful for, and appreciative of, my entire team – especially those Senior Consultants who worked untiringly to help my journey. And of course, I'm thankful to Executive Consultant Ikbal Sheriff, who is always there for me."
IMPORTANT GOALS
With his growing business, Zeph wants to work toward helping people in crisis throughout the world.
Four years ago, he spoke with the Ugandan Ministry of Health at Jinga in hopes of finding a solution to the benzene water contamination there. "Originally, the attempts to use MHD technology (magnetic-hydro dynamics) to restructure the water at the molecular level didn't work due to lack of money," says Zeph. "I want to help gather adequate funding and efforts in support of this project."
Beyond his work in Uganda, Zeph wants to grow his Ambit business "through real team effort." He plans to elicit support from many different sources to work "for the good and comfort of many."
THE "ELECTRICITY" OF AMBITION
Zeph's first experience at AMBITION was supposed to be the 2009 event. Unfortunately, bad weather cancelled his flight – so by the time Zeph got to his first AMBITION in 2010, he had achieved the level of Executive Consultant!
"AMBITION is illumination," says Zeph. "I advise every Consultant to be there, and it is a must for leaders. The electricity of the event spreads the vision quicker, and it will transcend your team!"
And Zeph Blake hopes to use the Ambit Energy vision to transform lives around the world
---
Featured Consultant
At Ambit Energy, we're inspired, proud, and even awed by the success stories we hear from our Consultants every day. Learn what motivates some of our top Consultants, read why they decided that Ambit was the right company at the right time, and maybe even pick up some inspiring tips to help you build your own business and achieve a similar level of success!