"Ask the Right Questions!"
Orshi Csak , Executive Consultant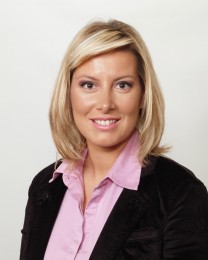 If ever there was a model for how to succeed in this business, Orsolya "Orshi" Csak is it. With no previous experience in network marketing, this single mother of a very young daughter has risen rapidly to promote herself to Executive Consultant leadership status, and she's leading a highly motivated team in New York, especially in the Albany area.
Before coming to America eleven years ago in order to learn English, she studied computer programming in her native Hungary. But computers were not for her. "I'm a people person," she says with conviction. Orshi had always wanted to own her own business, so she enrolled at City University of New York and graduated Phi Beta Kappa with a business management degree in 2005. Before joining Ambit, she worked in real estate, which in recent years has not been the best business to be in.
"I can't be a stay-at-home mom forever," she recalls thinking. She saw Ambit as a way out of that economic situation. Orshi joined the business after several failed attempts by her sponsor SC Laszlo Hajdu to get her into a Business Presentation. Finally, he offered to come to her home and show her the Ambit Opportunity.
"I didn't understand half of it," she says. "Instead of asking people to spend money, I'm putting money in your pocket!" Being business-minded, she asked Laszlo how long it would take to make her investment back. He suggested a week or two. She also wanted to know how many leaders Ambit had in New York. Laszlo told her it was possible for her to be a leader as a Regional Consultant in a week, and a Senior Consultant within a month. Then she asked, "Would you help me make that happen?" Of course, the answer was "yes," and Orshi was in.
Learning the business
"I was like a sponge, a bookworm, I wrote down all kinds of notes," she remembers. "I started one-and-a-half hours a day after my daughter went to sleep, making phone calls." She got lots of customers right away. She read all kinds of books on personal development. She also drew inspiration from various DVDs that feature Ambit leaders, in particular NC Steve Thompson, NC Ronny Kirkland and EC Debbie Roy Atkinson. "Locate, educate and motivate ambitious people." That was Ronny's advice Orshi took to heart. She also made it a point to meet Steve when he visited New York and asked him permission to call him when she had questions or needed advice. And after seeing Debbie Roy on ambition07.com and learning there weren't any independent female ECs in New York (at the time, only the brother-sister team of Joseph Levit and Nicole Gubin), she decided, "I want to be like Debbie Roy."
Orshi says this is the first time she's ever been paid for helping people, and it comes naturally to her. "This business is about people," she says. "You have to care about others." She says to "always focus on the other person, not on yourself." Simply by using the Three Questions, she found success. "They always answer the way I want them to."
Teamwork makes the dream work
Orshi says, "Always asking questions means you want to get to the next level." She credits her SC team in Albany for asking all the right questions: Thomas L. King, Kent Hansen, Ron Moraski, and Morris Blake. "Their trust and our synergy as a team… it's like a second family here in Albany. Their commitment and their belief—that's the reason I became an EC."
And the family is growing! Orshi says of new MCs, "I look at them as a newborn and when they become Seniors, that's when they are 18 and grown up." She goes on, "They have to learn how to eat, how to walk, how to run, dress, talk… You have to teach your children!"
A tireless worker
Following the Ambit system has brought unimaginable success to her team. "This is the first time ever in my life I did what I was told," Orshi confides. "I didn't even do that with my mother!" She did what she says her upline told her to do: "Make ten calls a day, and not voicemail—you have to talk with a person." Sometimes, she said, "It was so quick I made 20 or 30 calls. One time I made 80 calls in one day!" And, "I always started with questions, never what I wanted." Orshi says you have to "focus on what they need." And for every person who said "no" she asked for five names "so I could go on."
There was one particular question she asked when the upstate New York market launched - and it blew it wide open for her. She and her team from the city were on the way to Albany and stopped at a restaurant. She struck up a conversation with someone she didn't know. "I ordered a salad and talked to Thomas King, a restaurant customer, and asked him, 'Do you like to help others?' and he said, 'Of course! Who doesn't?' and I told him, 'You are qualified to participate in the opportunity to save money and make money with the deregulation of energy!'" Orshi says, "After that it was like a miracle. You are always one person away from a miracle. You are always one person away from being a success. You don't have to know lots of people. You just have to have faith."
Orshi says "thank you"
Orshi says, "I am thankful to my sponsor and uplines, Laszlo Hajdu and Steve Thompson; to my first five SCs; and most importantly, to my mom and sister." After she asked Thomas that fateful question back in October of 2008, her mom and sister took care of her daughter during a very hectic time. "I was up at 5 or 6 a.m. and back at 2 a.m. every Tuesday," driving from Brooklyn to Albany and back, whether there was snow or rain or freezing weather.
She's very thankful for the support of Ambit Energy's co-founders, Jere Thompson and Chris Chambless. "The company's leaders supporting you by actually coming to Albany when upstate New York opened, and the commitment of Chris Chambless coming to Albany many times - that was great!" She confirmed her belief she was with good people when she heard Jere Thompson say, "Never let good enough be good enough."
Success leads to more success
Orshi just recently returned from the 5-Star Club Travel Contest winners' trip to California. "I've never worked for a company that would do that. It was a unique experience. I enjoyed having dinner with Jere Thompson and Chris Chambless. And I found myself bonding with the Texans, [all ECs] Debbie [Atkinson], Mary [Amoedo] and Esther [Spina], as well as with Piotr and Gosia Luda from Illinois."
While Orshi says she's still learning new things every day, she also remembers her recent past. "I always wanted to have my own business," she repeats. "When I came to the U.S., I knew this is the land of dreams. If you believe in it, they will come true. Ambit was the opportunity that made my dreams come true!"
---
Featured Consultant
At Ambit Energy, we're inspired, proud, and even awed by the success stories we hear from our Consultants every day. Learn what motivates some of our top Consultants, read why they decided that Ambit was the right company at the right time, and maybe even pick up some inspiring tips to help you build your own business and achieve a similar level of success!