Born to Perform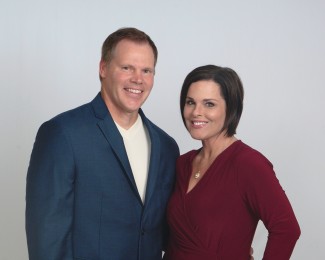 The Gables were born to perform. Kym started out dancing, singing and acting before transitioning to a career as a TV news reporter in Pittsburgh, and Jeff was an accomplished athlete prior to joining a lumber company in a managerial and sales position. The couple also runs a small construction and development firm in the Pittsburgh area, among several other businesses. But when the couple had twin daughters and Kym's employer sold its news department, they found themselves in a difficult position – new girls, a new home and a new nanny and a sudden loss of income. Luckily, they also found a new way to perform, as Ambit Energy Consultants.
"My friend, Executive Consultant Jason Capps, asked me to take a look as something," Kym says. "I told him was to too busy, but loved the idea of Free Energy. I initially enrolled just for that. But when a potential Customer asked me about becoming a Consultant, I realized this was the opportunity we were waiting for!"
Learning and Growing
For the Gables, the hardest part of starting their business was encountering resistance from some of the people they themselves had supported in business endeavors over the years. But they were inspired by the people who showed faith in them. They read personal development books together, listened to Audible and had long talks about their family's future. They developed leadership skills, mentored others and shared their stories. Above all, Kym says "We became more open-minded and better listeners."
"We've learned that rejection doesn't mean the end," Jeff adds. "Don't be afraid to 'Go for no.' Align yourself with the leaders who are where you want to be."
Pushing to Do More
While the Gables' accomplishments are impressive, they're not even close to finished. "Community outreach is a driving goal force for both of us. We fundraise and volunteer for various charity organizations. I founded the second chapter of Inspired Women Paying it Forward in the South Hills of Pittsburgh. We give grants to nonprofits that support women and girls, and several other Ambit Consultants are members of this organization. Jeff gives his time building facilities and improving infrastructure for the YMCA." As they continue to grow their business and involve their teenage daughters, the Gables want to do more to help others, give back and inspire hope.
Five EC Pieces
My/ our "Why?"
Giving that goes viral! Making a collective impact with our Ambit family and watching our children grow in the light of that faith.
Time spent working my/ our Ambit business:
Still only about three-to-five hours a week.

What was your single most-effective Success Tool, factor or influence for growing your business?
Kim and Jim Mason—they saw something in us early on and we aligned ourselves with their momentum and knowledge. Also attending events. WE GO TO EVERYTHING! I was fortunate to have been to Brian McClure's ranch, for training, and at every AMBITION, Power Trip, and Simulcast. We make certain we connect with other leaders throughout the country.

Name your favorite thing about AMBITION:
Reconnecting (in person) with other leaders from across the country. I keep a small notebook with me every day and write down little nuggets of gold from each of them.

Thanks to the five SCs who helped me/ us reach EC.
Tyann and Brian Neal, we owe this promotion to you.
Tyann and Brian showed it to Kerri and Dan Hartman.
Kerri and Dan Hartman showed it to J.P. and Gregory Giancola
Kurt Lewis
Jason Betters
---
Featured Consultant
At Ambit Energy, we're inspired, proud, and even awed by the success stories we hear from our Consultants every day. Learn what motivates some of our top Consultants, read why they decided that Ambit was the right company at the right time, and maybe even pick up some inspiring tips to help you build your own business and achieve a similar level of success!