Cleaning Up With Ambit
Jay Emma, Executive Consultant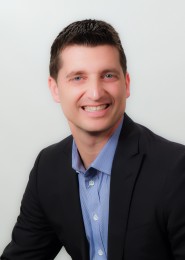 Jay Emma has always been an entrepreneur. He started his business pursuits at 17 years old when he started a cleaning company which cared for cars, boats, and planes. After that he worked 5 years as a financial planner and then started training / consulting for small business owners, which he still does part time (because of his success in Ambit).
"When my good friend Bill asked me to become his customer with Ambit, I said 'yes' immediately, and he explained there was a way to make money. After being resistant at first, the two things that impressed me about Ambit, to quote my friend Frank Nagel, are 'We do two things. We gather a handful of loyal customers and we help others do the same thing'.
Because of Bill .....I'm hopeful that my financial future is very bright and Ambit is a big part of that story."
It All Comes Together
One of the things Jay likes best about Ambit is watching his hard work and initial investment pay off. "It took me 11 months to assemble a team and gather my first 1,000 customers, but only 10 weeks to reach 2,000 customers, and thousands of customers have come in since then!" he says. He already has an Executive Consultant in his downline, has been featured in Success From Home Magazine, and, in 2012, received the Pure Energy Award at AMBITION.
For Jay, Ambit has provided him with all the tools he needed to succeed. "I have always been aware of my talents in terms of working with people; I just lacked the right opportunity. I'm amazed to this day by the support I have been given in Ambit."
A Bright, Shiny Future
While Jay is excited to have become an Executive Consultant, he's even more excited about his future. "I am committed to imparting the knowledge and experience I have to help maximize the results of people on my team" he says. "As an Executive Consultant, my opportunities to serve people will grow. I hope I can be an example and a friend to the people who want to share their journey with me."
He also has what he considers four key pieces of advice for new Consultants. "First, be clear about your why and revisit it often. Second, build a strong list of names. Don't prejudge people—show everyone! Third, enjoy the process of sharing the business without trying to 'get' people. Finally, never quit! Get plugged into your system and don't let go."
For Jay, Ambit is truly an opportunity to be part of shaping the principles and practices of one of the best and brightest companies in the world.
My "Why?"
My desire to be all I can be in life by helping others be all they can be.

Time spent working my Ambit business:
These days, I typically spend approximately 10 - 15 hours a week building Ambit, but it's hard to quantify because I'm always building people up, and people build Ambit—Plus, it doesn't feel like work!!

What was your single most-effective Success Tool, factor or influence for growing your business?
A lot of people have helped me, and supported me, but I must say Thank You to Brian McClure, Ray Montie, Norbert Hennessey, Runee Harris, Kevin Kerrigan, Frank Nagel, and especially my good friend Charlie Melchner! Charlie's friendship, support, and leadership continues to this day.

Name your favorite thing about AMBITION:
The feeling of enthusiasm that rushes through my soul as I see thousands and thousands of people working together towards a well-intentioned, common goal!

Thanks to the five SCs who helped me reach EC.
Rich & Laura Castellano, Ed & Wanda Maffia, Dawn Reeves, Betty Miller, and Joe Didomizio
---
Featured Consultant
At Ambit Energy, we're inspired, proud, and even awed by the success stories we hear from our Consultants every day. Learn what motivates some of our top Consultants, read why they decided that Ambit was the right company at the right time, and maybe even pick up some inspiring tips to help you build your own business and achieve a similar level of success!