Cooking Up Success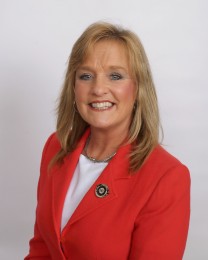 Cooking Up Success
Her whole life, Roxana Cook Blanks has had the recipe for success. For many years, she and her husband Ren owned a successful printing company in Dallas. Eventually, they decided to move to Glen Rose, Texas to raise their family in a small town environment. There, they opened a barbeque restaurant that went on to win many awards for its cuisine.
But, like many successful people, Roxana found herself without the time to enjoy her success. "After running the restaurant for many years, the 12 – 16 hour days were taking their toll on us," she says. It was about that time their son Hunter introduced them to National Consultant Paul Jenkins and the Ambit Opportunity. "I was impressed by the fact I could work from my home and set my own hours," Roxana says. "I was also very impressed with the residual income possibilities."
Carving Her Place in the Market
Roxana didn't waste any time building her Ambit business. She fast-tracked her way to Executive Consultant. For her, selling Ambit came naturally. "When you believe in the company you represent it makes it easy to tell others about it." And, like all successful Ambit leaders, Roxana knows the value of working with her downline. "I try to stay in contact with my Consultants on a daily basis," she says. "I let them know I am available at any time if they need help."
Moving forward, Roxana wants to do even more to help her team succeed. "We want to have weekly meetings at our restaurant in Glen Rose to spread the word about Ambit Energy. I am also looking into marketing ideas to get new Consultants and Customers."
Serving Up Advice
While not every Consultant will fast-track to EC, Roxana believes her success is an example for others. "If I can do it, everyone can do it," she says. And she has some concrete advice for those seeking to advance their Ambit ambitions. "Ask questions. Go to meetings. Contact Consultant Support when you have questions. I wish I had gone to more meetings at first, and called my upline with the questions I had."
For her, the rewards of Ambit have been simple – more time to spend with her family, and freedom from worries about planning for their retirement. As she says of her decision to join Ambit, "The only thing I would do differently is to have signed up years ago."

FIVE EC PIECES
My Why:
To spend more quality time with my husband and family.
Time spent working my/ our Ambit business:
24/7.
I wanted more free time, and Paul Jenkins showed me that Ambit Energy was the way.
What was your single most-effective Success Tool, factor or influence for growing your business?
Name your favorite thing about AMBITION:
My favorite thing about AMBITION is the enthusiasm that everyone has, and meeting fellow Consultants from across the country and from around the world now!
Thanks to the five SCs who helped me/ us reach EC.
Bob Cook
Rosana Powell
H.R. Blanks
Brandon Urquhart
AAman Mitchell
---
Featured Consultant
At Ambit Energy, we're inspired, proud, and even awed by the success stories we hear from our Consultants every day. Learn what motivates some of our top Consultants, read why they decided that Ambit was the right company at the right time, and maybe even pick up some inspiring tips to help you build your own business and achieve a similar level of success!