Crunching the Numbers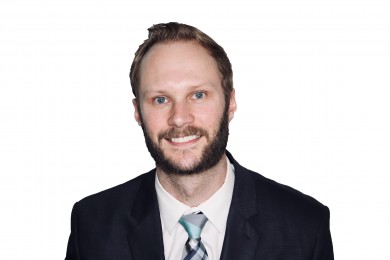 As a CPA, Jonathan Drew knows numbers. And he brought a critical eye to Ambit when he was introduced to the Opportunity. "The numbers had to make sense," he says, "and the Ambit Compensation Plan really spoke to me, especially residual income. And there's not a lot of risk in a $100 investment."
So, after growing tired of putting in 50-80 hour weeks as a tax planner, Jonathan was ready to try something new. Initially, he really signed on as a favor to a coworker who was working his way toward becoming a Senior Consultant. Then, tax season hit and Jonathan was too busy to work his Ambit business. But in the summer of 2016, he started to work his Ambit business and soon promoted.
Not So Fast
"The first few weeks went really well and I got overconfident," Jonathan says. "I got my first realization of how challenging things can be when I tried to get a foothold in Ohio." Suddenly, he was dealing with rejection—but he kept trying. He also found that being from Michigan—where Ambit is not available—was both a challenge and an opportunity. "It forced me to go other places and build my skill set, and if Michigan does ever open, I'll have a much larger footprint."
Eventually, through persistence, Jonathan's business began to grow again. "A couple of my downline Consultants hit Senior, and word started to spread that several of us were seeing success." He also found himself growing and developing as a teacher and leader, enabling others in his team to reach their potential. When he became a Senior Consultant, he quit his job and focused on his Ambit business full-time.
It All Adds Up
One of Jonathan's favorite memories is the first time he got a check and realized that more than half of it was residual income. And, as his business continues to grow, he sees even greater things ahead. "I'd like to get training sessions going in Michigan and Ohio," he says. For Consultants seeking to grow their business, Jonathan recommends "Don't assume anyone knows all the answers. Just because someone is successful doesn't mean you should model your business like theirs. A brand new MC may not have a lot of experience, but they may have a great idea about how to accomplish a certain task."
As for the future, Jonathan says "I see myself doing what I'm doing now but with a much larger team. I'm excited to see new leaders step up and grab their own success."
And it's quite likely many of those new leaders will have learned the secrets of success from Jonathan Drew.
Five EC Pieces
My "Why?"
To take my life back and help others do the same.
Time spent working my/ our Ambit business:

All-day and every-day but in a healthy way.
What was your single most-effective Success Tool, factor or influence for growing your business?
Working as a team no matter what.
Name your favorite thing about AMBITION:
Visualizing how much Ambit Energy has achieved in such a short amount of time.
Thanks to the five SCs who helped me/ us reach EC.
Philip Valleau, Carlton Holley, Jason MacKay, Celeste Green, and Ashley Rosentreter.
---
Featured Consultant
At Ambit Energy, we're inspired, proud, and even awed by the success stories we hear from our Consultants every day. Learn what motivates some of our top Consultants, read why they decided that Ambit was the right company at the right time, and maybe even pick up some inspiring tips to help you build your own business and achieve a similar level of success!