Daring to Dream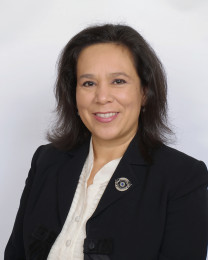 Daring to Dream
Nancy Gonzalez had a vision. She saw herself, her husband and her children living a life free of financial worries, without having to work high-stress jobs that demanded long hours. And when she learned about the Ambit Opportunity, Nancy did more than just picture a better future. She went to work.
Because she and her family lived in Salt Lake City, Utah at the time, Nancy made the bold decision to move to Texas while she got her Ambit business up and running. "It was a big challenge leaving my family for eight months," she says. "It was very difficult because during that time my children were growing and there were many important changes in their adolescence that I missed."
But for her, the long-term rewards were worth it. She promoted to EC and can see her vision for herself and her family becoming a reality.
Hard Work Pays Off
According to Nancy, there's no secret formula for success. She credits her rise through Ambit's Consultant levels to "setting goals and having discipline." That's why her advice to anyone starting out in an Ambit business is "be determined, work close to your leaders and receive training so that you can train others."
For Nancy, there's also a payoff beyond her own financial rewards. "I now enjoy seeing my own team grow, discovering the faith I feel in each one of them, and their determination to reach their goals."
The Dream Continues
Nancy has achieved many of her "Whys," but she still has goals. She knows that, with the help of her team, there are more achievements waiting for her. "I'm going to work hard, just like at the beginning," she says. "I am working on expanding to new markets to keep growing. I see a great future in the deregulation of energy."
Five EC Pieces
My/ our "Why?"
Relief from a stressful job and more time to spend with my family.
Time spent working my/ our Ambit business:
Full time
What was your single most-effective Success Tool, factor or influence for growing your business?
Training
Name your favorite thing about AMBITION:
The success reached by others and the advice we get to make our business better.
Thanks to the five SCs who helped me/ us reach EC.
Jerly Rodriguez
Miriam Ramirez Lessi Cruz
Maria Victoria Perez Cuervo Armida Bonilla
---
Featured Consultant
At Ambit Energy, we're inspired, proud, and even awed by the success stories we hear from our Consultants every day. Learn what motivates some of our top Consultants, read why they decided that Ambit was the right company at the right time, and maybe even pick up some inspiring tips to help you build your own business and achieve a similar level of success!