Defying His Past
Fred Banks, Executive Consultant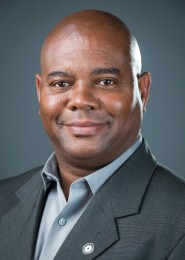 Fred Banks had achieved success as a corrections officer and pastor, as well as being the proud father of three children. Where he'd fared less well as an entrepreneur. While he knew owning his own business was the key to Financial Freedom and security for his family, he'd never found the right opportunity. He'd failed in publishing and owning a number of small businesses. Still, he never gave up. "It was my hope that I would find a way to make money using my God-given talents," he says.
Eventually, he had the chance to meet with National Consultants Kenneth and Terri Smith. After talking to them, he decided he would make an 18-month commitment to Ambit. If he succeeded, he'd stay with the business. If it failed, he'd cut his losses. "Within those 18 months I promoted to Senior Consultant and I was making money," Smith says.
Rewards of Helping Others
For Fred, one of the best things about being an Ambit Consultant is the opportunity to help others. "For me, Ambit is about helping more people take it to another level. My biggest and proudest accomplishment by far is the promotion of my five Regional Consultants to Senior Consultant."
But success like that doesn't come easy. Fred had to deal with rejection, even from his family and friends. "I overcame it by not taking it personally, but recognizing it is a part of the process." And, eventually, many of those family members and friends recognized Fred's success. Now he looks forward to expanding his business into new markets and holding additional meetings as he seeks to grow his business as he achieves the rank of National Consultant.

Staying Focused
Having a focus on success is essential. Fred recommends that new Consultants "tell the story over and over again. Recognize what is best and repeat it." He believes that keeping your Ambit story simple is critical to achieving your goals. He also says "Commit to learning the system. Listen to your instinct only after you have learned the system."
Eventually, Fred sees himself in a blue jacket and a member of the $15 Million Club. And on his way, he'll doubtless help many more Consultants to achieve their own success stories.
---
Featured Consultant
At Ambit Energy, we're inspired, proud, and even awed by the success stories we hear from our Consultants every day. Learn what motivates some of our top Consultants, read why they decided that Ambit was the right company at the right time, and maybe even pick up some inspiring tips to help you build your own business and achieve a similar level of success!