Didn't Want to Miss the Boat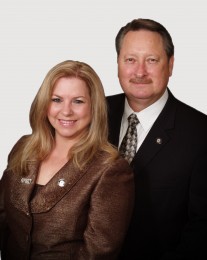 Some people find Ambit when they're not really looking. One of those people was Randy Irwin, a real estate inspector from Houston, TX.
Randy had enjoyed a successful 10 years in the industry, and he was happily married to his wife Rosanna with three wonderful children.
But like many people, Randy was in debt and busy working 60 to 80 hours a week.
"A COMMON INTEREST"When Randy was introduced to the Ambit Opportunity, his initial reaction was "no." But afterwards, he couldn't stop thinking about it: "If half of what they said is true, we don't want to miss the boat!"
Randy and Rosanna signed on and began building their business with great support from mentors Chris and Debbie Atkinson. "Chris was in real estate and I'm in inspections, so we had a common interest."
"Chris and Debbie saw our potential before we did," says Randy. "They helped us develop into the leaders we are today. We wouldn't be where we are without Chris and Debbie in our lives – we're eternally grateful to them!"
EASY TO BELIEVE
From the outset, what impressed Randy the most was that Ambit is "a service, not a product."
"I don't have to convince people that they need electricity," says Randy. "I'm not asking people to buy something they don't need with money they don't have."
"No matter what a person's situation in life, energy is a part of everyone's monthly budget. And that made us believe that we could do this business."
AN IMPORTANT REALIZATION
Early on, Randy's best friend gave him a flat "no" answer – he wasn't interested in Ambit. This decision was discouraging, and made Randy take a long look at things.
Early on, Randy's best friend gave him a flat "no" answer – he wasn't interested in Ambit. This decision was discouraging, and made Randy take a long look at things.
Today, Randy's friend is an avid supporter and refers both customers and potential Consultants regularly.
"Now that is a true friend."
EXPECTATIONS & RESULTS
In the beginning, Randy was admittedly "a skeptic."
"My goal was to get our money back," he recalls. "But in 30 days, we promoted to Regional Consultant, got our money back and more. And we haven't looked back!"
Today, Randy's expectations are much different. "From 2009 to 2010, our Ambit income has more than doubled. We look to do the same and more for this year."
"We've done more financially in four years working Ambit part-time than we've done in ten years in inspections," he notes.
THE IMPORTANCE OF THE TEAM
Randy started his business focusing on money. But as the business grew, he experienced something unexpected. "It was an emotional experience to watch our friends promote and change their lives." "Now, because we've surpassed our own expectations, we do our best to help others to be more than they thought could be – and accomplish more than they thought they could."
Building a successful Ambit business depends on helping others achieve their own success. As Randy says: "We didn't accomplish this alone – it took the effort of five friends who promoted to SC: Leonard and Denise Moore, Dwight and Nancy Hewitt, Hernan and Christy Hernandez, Cliff and Ruby Saunders, and Richard Wall. Our heartfelt gratitude goes out to each of these leaders."
TAKING BACK THEIR LIFE
Randy and his wife are now able to work less on their inspection business because of Ambit. Their new goal is to be debt-free by the end of 2011.
"Reducing our debt, stress and workload – those are our major hot buttons," says Randy. "Now we're looking at 'playing' for a living. It doesn't feel like work compared to the inspection business. We have fun and make money. I love it!"
Randy's immediate goal is to double his team this year. "That's a tall order, and we're working on it," he says. "Aim for the moon, at least you'll land among the stars!"
In the big picture, says Randy, Ambit is about much more than making money: "It's about changing lives for generations to come."
THE FUTURE OF AMBIT – AND ITS CONSULTANTS
Ambit has a true believer in Randy Irwin. "I see Ambit making a positive change in the network marketing industry. This is a model many will use to measure their businesses – Ambit is setting the standard for others to follow."
That's why he advises new Consultants "to act now, without hesitation." Randy tells them to "get involved with helping the Consultants on your team, and devote yourself to their success – and you'll find your success by helping them."
NOTHING BEATS AMBITION
Randy and his wife have attended every AMBITION, and they credit the event for turning them from skeptics into dreamers.
"Having been to AMBITION, we believe we can succeed beyond anything we ever dreamed, to make a positive difference, and to help others do the same," he says.
"Without question, every Consultant needs to attend AMBITION. It will take the business from your head to your heart – it will expand your vision and your commitment."
And for someone like Randy Irwin, who came to Ambit as a self-proclaimed "skeptic," those are some strong statements!
---
Featured Consultant
At Ambit Energy, we're inspired, proud, and even awed by the success stories we hear from our Consultants every day. Learn what motivates some of our top Consultants, read why they decided that Ambit was the right company at the right time, and maybe even pick up some inspiring tips to help you build your own business and achieve a similar level of success!