Discovering a Life of Fulfillment and Balance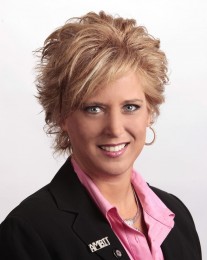 As a successful salon owner and busy, single mother of a 15-year-old daughter, Michelle Matthews knows the importance of maintaining balance. During her 22 years in the styling and salon business, she had the good fortune of working with the Miss Oklahoma and Miss America pageants, traveling to Atlantic City as a hairstylist/makeup artist while running her own salon for 19 years.
"I've had the exciting opportunity to meet many distinguished clients and travel the U.S. teaching other stylists," Michelle says. "But after my daughter started school, I realized how important it was to keep a strong home base, so I made the decision to refocus my career."
Opportunity Knocks Twice
"I was introduced to Ambit at a Padre Island Business Association Luncheon featuring (National Consultant) Esther Spina," Michelle says. "I was interested in speaking with her to learn more, but I was in a rush to meet a client."
"At that time, I was working 10 to 12 hours, four to five days a week and helping care for my grandmother who was suffering from Alzheimer's disease. About six months later, my mother - who is known for her sharp eye for business and 'Midas touch'- told me about a new opportunity she discovered. It was Ambit! I was excited to make the connection and knew I was destined to seize the Ambit Opportunity."
A Brilliant Way To Balance The Budget
One of the most immediate benefits that Customers and Consultants experience through Ambit is substantial monthly savings. "The summer before I signed up as an Ambit Consultant, I had a $900 electric bill," Michelle says. "After switching to Ambit, I immediately saved $300."
"Then, at AMBITION, they announced the Free Energy program - and I was so excited that I started asking all my friends to make the switch. After I got my 15, I started seeing electricity credits ranging from $175 to $325. I'm proud to say that now my monthly bills average $150."
"And now, those friends that didn't join right away when I presented the Opportunity are kicking themselves."
The Right Team Makes All The Difference
It didn't take long for Michelle to learn that success starts with smart team members. She explains, "I am blessed to have wonderful Consultants working in my Ambit Team. I'm so proud of them. They are really motivated, and I could not have gotten where I am today without their determination and success!"
Having Time For The Important Things
"I think what I appreciate most with the Ambit experience is having the time to focus on the things that mean most to me," says Michelle. "Now I can work Ambit part-time and still enjoy being a stylist and a very involved mom."
"Because of my additional income from Ambit, I was able to afford full-time caretakers for my 90-year-old grandmother in my home. She passed on December 31, 2010 - and she had reached the Senior Consultant level. It was a blessing to have her at home with me, and I would not have been able to do it without Ambit."
"Now I have a new 'WHY' - setting up a college fund for my 15-year-old daughter, who is planning on attending MIT or Harvard," Michelle says. "Although her academics will get her in, Ambit will help me with the other college expenses!"
Looking Forward To A Balanced, Profitable Future
Michelle is excited to be on the road to a bright, lucrative future - building up a strong EC business and continuing to work toward National Consultant status.
"My 5-year plan is for my Ambit business to completely cover all of my household expenses," she says. "My 10-year goal? To retire, travel and enjoy life."
And for other Consultants, she has the following advice: "Always stay focused and determined, and keep your eye on the big picture. And of course, you need to attend AMBITION! That event is vital to the success of your business. It is, by far, the best way to get motivated and drive you to achieve your goals. Just remember, it will happen, as long as you stay committed!"
Now Michelle is able to enjoy the best life has to offer - providing life-long opportunities for her family, expressing her passion for styling and beauty, and sharing the pride that comes from attaining her full career potential.
---
Featured Consultant
At Ambit Energy, we're inspired, proud, and even awed by the success stories we hear from our Consultants every day. Learn what motivates some of our top Consultants, read why they decided that Ambit was the right company at the right time, and maybe even pick up some inspiring tips to help you build your own business and achieve a similar level of success!