Doing His Homework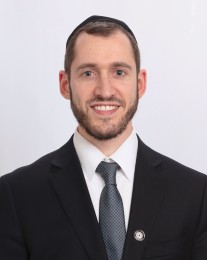 Aharon Shain comes from a family of educators, and has more than nine years of teaching experience to his own credit. He also authored a book, worked as a curriculum salesperson and is busy raising a family.
As his family continued to grow, his expenses were increasing faster than his income and he needed another income stream. Also his children needed more care so his wife became a full time mom. "This left me to be the sole breadwinner of the family and I was struggling to make ends meet" he says. It was at this moment in time when his school shared the free energy referral program to the teachers and he joined as a consultant. When he learned of the financial opportunity he took off.

"The income was slow to come, I was working overtime and this was especially challenging for my wife," he admits. But he continued to work his home-based business and build a strong team. "It took persistence and a consistent effort to develop and grow, but this has created an atmosphere for our team to thrive and develop key skills and the entrepreneurial mindset necessary to succeed."
Getting an Education
For Aharon, Ambit was a true learning experience.
"I had to learn to think like an entrepreneur. I see the value of teamwork, and how much more we can accomplish than doing it alone. And I learned to value residual income—the ability to earn passive income on cumulative effort over time."
Of course, as a teacher, it was natural for Aharon to share what he learned with others. "I took the initiative to create an attractive culture to support what would become my team, and attracted a group of exceptional Consultants who are committed to promoting Ambit's values. We work hard to ensure our Customers and Consultants enjoy their benefits."
These efforts have paid off. Today, Aharon & his wife are moving toward their goal of financial freedom. Many of his family members are earning free energy, and his wife is proud of their Ambit business. But perhaps the best part is when consultants comment what a difference it made in their lives being a part of Ambit Energy. Or when Customers ask "How much do I owe you for keeping on top of my plan?" "I just thank them for being their loyalty," Aharon says.
Keeping Focused
Another important lesson Aharon has learned is the importance of keeping his team focused and positive.
"We have a support system—a weekly routine. It starts with our Sunday Training Hour, then our Tuesday Business Presentation and our Thursday Night Support Call. In addition, I spend a lot of personal time with the Consultants who are working hard, to guide and support their effort."
This experience is the basis of his advice to new Consultants.
"Be part of your team. Learn and grow from them and offer some value back. Treat your business as a profession where you will learn and develop skills and add value to the marketplace."
Planning the future
Now that he's achieved his goal of becoming an Executive Consultant, Aharon sees even bigger things in his future. He wants to continue to develop his networking skills and attract more top-level talent to his team.
"I envision myself adding value to people's lives, leading efforts to educate and coach and bettering the lives of people who want to make a positive change in their lives," he says. "This is the beauty and reward the network marketing model has to offer."
So far, Aharon has proven himself to be both a good learner and a masterful teacher as he continues to rise in the ranks of Ambit Consultants.

Our "Why":
Time freedom conducive to living a balanced life.
Time spent working the Ambit business:
Around 20 hours a week.

What was your single most-effective success tool, factor or influence for growing your business?
Personal development – the learning environment that gave me the knowledge & direction for every step of the way.
Name your favorite thing about AMBITION:
The keynote addresses from Jere & Chris. We listen to them over & over again!
Thanks to the five SCs who helped in the journey to becoming an Executive Consultant:
Nathan Engel, David Massre, Menachem Winer, Raphael Bamberger, and, Sam Yellin, I couldn't have done it alone and for that I'm very thankful. It truly was a team effort in every step of the way. We all had mutual interests and put our heads together to make it happen. I thank my team from the bottom of my heart and I'm looking forward in seeing you all at the top!
---
Featured Consultant
At Ambit Energy, we're inspired, proud, and even awed by the success stories we hear from our Consultants every day. Learn what motivates some of our top Consultants, read why they decided that Ambit was the right company at the right time, and maybe even pick up some inspiring tips to help you build your own business and achieve a similar level of success!