Dollars and Cents Equal Success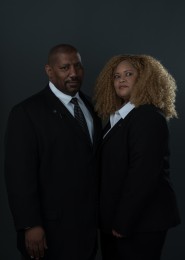 Free Energy sealed the deal for Eddie and Lee Bobo. They've enjoyed a relatively low energy bill since 2008. "I will never forget receiving the bill and it was only $5.90. I could not believe it! The next month the bill was only $3.73," Eddie said. It's when they realized it was possible for them to earn more that their lives turned in a different direction.
Eddie and Lee aren't new to being in business for themselves. They've worked with a company similar to Ambit for nearly 25 years. It was only after speaking with a realtor about their home that they find out about Ambit. "EC John Morrison came to our house and my husband asked about selling real estate. John quickly told us he had something much better than real estate," Lee said. After that initial meeting, everything seemed to fall into place.
Things were moving fast with their business, but for them, things were moving a bit slower. "In the beginning, we did not understand how large the Ambit Opportunity was, and we aimed too low. Our first year, our goal was just to receive a check each week from Ambit," Eddie said. Then, their plans changed. Their targets began to increase in size the more their confidence grew. "It took us some time to realize this is the real thing. Now our goals are much larger," Lee said adding, "Our 'Why' and goals have grown with us over time."
Their objectives now involve helping their team determine their 'Why' and moving forward in their Ambit businesses. "We want our team to view Ed and I as business partners and feel free to speak and grow their businesses," Lee said. One of their challenges was being afraid to tell others about how Ambit changed their lives. "It was a fear of being rejected and not being able to coach our team to the level of their aspirations," Eddie said. They now focus on helping their team by being available around the clock.
They know being entrepreneurs and having a successful business is possible. They've done it themselves. Lee offers one piece of advice for new Consultants. "There should not be anyone that you haven't introduced to the Ambit Energy business plan," she said. Although they've reached a new level of success, Eddie says their game plan is still simple. "We use the analogy of a college football star going to the NFL. We are on the ground floor and we plan to work harder than ever!"
Five EC Pieces
Our "Why?"
Financial Freedom and generational wealth
Time spent working our business
The time spent has been worth every minute
What was your single most-effective Success Tool, factor or influence for growing your business?
I cannot single out one tool influence that assisted us in growing our business. I have used them all, but word of mouth has been the single best tool we have used to grow and maintain our business.
Name your favorite thing about AMBITION:
Our favorite thing about AMBITION is the positivity, seeing people excited about Ambit its contagious, and do not forget the announcements. We feel like little kids waiting to hear what is next.
Thanks to the five SCs who helped us reach EC.
SC Karley and Jake Deck
SC Sherri and David Ruble
SC Matthew Torres
SC Kim and Tommy House
SC Lead and Fred Williams
---
Featured Consultant
At Ambit Energy, we're inspired, proud, and even awed by the success stories we hear from our Consultants every day. Learn what motivates some of our top Consultants, read why they decided that Ambit was the right company at the right time, and maybe even pick up some inspiring tips to help you build your own business and achieve a similar level of success!