Driven to be Successful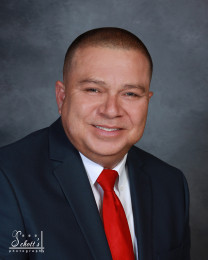 Driven to be Successful
Being a single dad with two kids to support wasn't easy. In fact, Hector Cuevas had to hold down four jobs, from throwing newspapers to working security to provide for his family. Thanks to his hard work, he was able to buy a few rental properties in his hometown of Odessa, Texas. But he knew he was a long way from being able to provide the kind of financial stability he wanted to bequeath to his kids—and as he grew older, his grandkids.
"I'd indirectly seen Business Presentations four times while visiting the home of my friends ECs Manny and Rosella Salazar," he says. "The fifth time, Manny asked me to really come to the presentation. I just handed him my credit card and the journey began."
Power of Free Power
For Hector, Free Energy was a powerful motivator. "I now have Free Energy and a residual that keeps growing of time," he says.
One thing that helped Hector during the early part of building his business was he already had a background in sales. "Nos didn't surprise me a lot. I have a very strong commitment level, and if I start something I want to finish it," he says. Before long, his drive and determination to succeed started to pay off. He was able to spend more time with his family, and indulge in his passion for vintage vehicles, including a lovingly restored 1955 International pickup that he uses as his daily driver.
"The system is proven and those willing to follow will be leaders. Just show the plan, and always be available to those who deserve your time and are willing to grow," Hector advises.
On Down the Road
Reaching EC is an incredible milestone, but Hector has no plans to let up. "I'm going to keep pursing my dreams and not put a cap on it as if I've arrived," he says. "I will never limit myself or my team. I plan to dedicate even more time and more presentations to increase my No's to reach the Yes's."
My/ our "Why?"
My kids are my biggest "Why!"
Time spent working my/ our Ambit business:
At least an hour a day
What was your single most-effective Success Tool, factor or influence for growing your business?
Home Presentations and the video
Name your favorite thing about AMBITION:
My personal growth as a person and an entrepreneur
Thanks to the five SCs who helped me/ us reach EC.
Melodee Gutierrez
Christine Mendoza
Tim Cuevas
Kim Cuevas(Castillo)
Christina A. Mendoza
---
Featured Consultant
At Ambit Energy, we're inspired, proud, and even awed by the success stories we hear from our Consultants every day. Learn what motivates some of our top Consultants, read why they decided that Ambit was the right company at the right time, and maybe even pick up some inspiring tips to help you build your own business and achieve a similar level of success!