Driving Hard on the Road to Success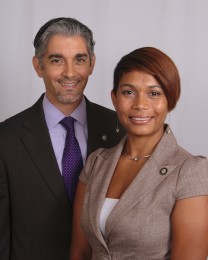 "My 'Why' is most definitely Elijah, Caleb and the third one in the oven," says EC Ralph Irizarry. Ralph believes his kids' generation is likely to be the first one where the kids will not do better than their parents financially. He feels the Ambit Opportunity can provide the long-term financial security his children need.
Ralph was introduced to Ambit Energy as he and his wife and kids were driving from their home in Staten Island down to Virginia to enjoy a few days of family time. "An elder in my church called me on the phone and told me I had to meet with his son. He wouldn't tell me what it was about, just that I had to meet with his son." So, the following Monday Ralph welcomed John Spadaro into his office and they viewed the Opportunity DVD.
"It took me three days to make a decision," Ralph says, realizing now he could have put those three days to good use. "I told my wife, 'I think we can do this.'" Ralph says she wasn't exactly 100% supportive at first, but once the envelopes arriving in the mail every week proved to contain commission checks for ever increasing amounts, she got on board. Ralph is now on Direct Deposit with Ambit Energy.
Having never had any experience in network marketing, perhaps Ralph's initial reticence is understandable. So why did he make the decision to join? "What attracted me to Ambit was the sheer simplicity of it: just helping people save a couple of dollars." He also appreciated that he could make his own hours. Ralph has promoted himself to Executive Consultant leadership status working his Ambit business only two days a week.
Good people make the difference
He says his sponsor, SC John Spadaro, was very encouraging at the start. "Nobody knew how big this was!" Ralph says. "I didn't even know what I was doing. We would just pop in the DVD and let it play." It was around a year after Ralph joined the business when Ambit Energy started bringing big training events to New York. Ralph credits meeting NC Steve Thompson and following his lead for helping to create the momentum toward building an effective Ambit organization.
Ralph also thanks his SC team for contributing to his success. "Pastor Mark Gregori has worked hard and been a good friend. Patrick Rourke has been relentless and very involved," Ralph says. Sonia Riveria & Gregory McRae, Nancy Cucuzza and Kevin O'Bryan round out the team that helped Ralph promote to EC.
Advice for new Consultants
"Be consistent and absolutely keep sight of your 'Why'," Ralph says. "You lose sight and the day becomes mundane and you see things through a clouded glass." He advises creating a "Dream Board," similar to the Vision Board he first saw at Ambition 2009. (You can find an example of a Vision Board in the Jump Start Training Presentation in the Ambit University section of Power Zone.)
Ralph also advises something we often hear from successful Ambit Consultants: "Never give up!" Ralph served in the United States Marine Corps. His father was in the Marines. "Giving up is something we don't do. My parents instilled in me a sense of drive and ambition. My kids never see me give up." It's bred into Ralph's family that they "shoot for the stars." His 7-year-old takes karate and already has "lots of discipline."
Ralph likens leading new MCs in the business to The Parable of The Sower. In the story, seeds can fall by the wayside, on thorns, on rocks or fertile ground. Ralph says, "Just because the seeds (new MCs) fall on rocks or thorny ground, don't give up!"
Looking forward
Ralph says, "You don't need sales experience. You don't need network marketing experience. People think because you're an SC or EC, you're special somehow." Nothing is further from the truth. "If you have ambition and drive to change your financial future or your kids' financial future, that's what you need. When the average person sees an everyday Joe succeed, they know they can succeed."
As an insurance broker, Ralph's clientele is somewhat sophisticated. He says about Ambit, "What I love about this business is the vision: the idea that we're going to be the finest and most respected." He feels as he approaches people in his insurance network, he can have confidence in, as he puts it, "the most tremendous opportunity of a lifetime." He's still bowled over by "just how big it's going to be!"
---
Featured Consultant
At Ambit Energy, we're inspired, proud, and even awed by the success stories we hear from our Consultants every day. Learn what motivates some of our top Consultants, read why they decided that Ambit was the right company at the right time, and maybe even pick up some inspiring tips to help you build your own business and achieve a similar level of success!