Family First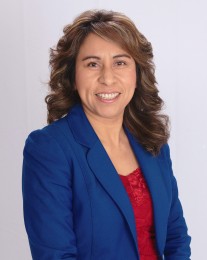 Making the choice to venture out on your own in search of a better life isn't easy. But that's exactly what Elizabeth Jimenez did when she left home without any financial support from her parents.

Parting from her family, that includes six brothers and sisters, and leaving Mexico was the most difficult choice she's ever made. In fact, Elizabeth considers this her first major achievement.
"I was the only one in our house to leave the country in search of better options," she acknowledged.
After graduating with a degree, Elizabeth set her sights on the American Dream. It wasn't long before a friend enlightened her about the Ambit Opportunity.
"I couldn't have been more impressed with Ambit," Elizabeth said. "You don't need to win the lottery to live your dreams."

Making an Impression
As is the case with most new ventures, Elizabeth had to deal with her share of doubters. However, after seeing her progress, most of those same naysayers have changed their tune.

"They didn't believe in it," Elizabeth explained. "Now many are Customers and others Consultants."

Even her husband was skeptical in the beginning, but it didn't take long for Elizabeth to convert him.

"He didn't agree with my decision to join Ambit at first," she said. "He changed his mind when I showed him the results. After seeing the checks I received just for helping others and getting free energy, he was a believer!"

No More Worries
Embracing the Ambit Opportunity has its share of benefits. Now Elizabeth has more time to focus on the most important thing in her life.

"Thanks to Ambit, I can spend more time with my family," she said. "I don't have to worry about not having enough money to pay the bills."

Elizabeth's success hasn't made her complacent. As an Executive Consultant, she's determined to help others succeed by supporting them with her experience and knowhow.
"I'm going to hold more frequent trainings," Elizabeth said. "I want to teach Consultants and show them how much they can progress in this business."

With a servant's heart guiding her, it's clear that the sky is the limit for Elizabeth.

My "Why":
My "Why" is to achieve financial freedom and not have the routine of an employee.
Time spent working the Ambit Business:
15-20 hours a week.
The single most-effective Success Tool, factor or influence for growing the Ambit business:
Trusting God.
My favorite thing about AMBITION:
Getting to know Ambit's great leaders.
Five SC's who helped in the journey to becoming an EC:
Damallanty Guzman, Maria Villalpanda, Jose Leon, Uriel Barrios, Jose Escamilla.
---
Featured Consultant
At Ambit Energy, we're inspired, proud, and even awed by the success stories we hear from our Consultants every day. Learn what motivates some of our top Consultants, read why they decided that Ambit was the right company at the right time, and maybe even pick up some inspiring tips to help you build your own business and achieve a similar level of success!