Fast-Tracking to Success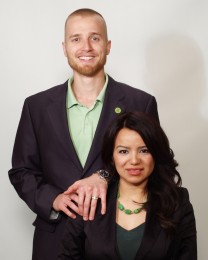 Justin and Sara Ledford are a couple who like to make fast, firm decisions. They got married three weeks after meeting on a social media site, and immediately got to work building a legacy for themselves. Already a top-sales rep at his job, Justin worked tirelessly to start a construction company while Sara used her business background to invest in commodities and other opportunities.
Despite their success, they knew they could accomplish more. And that's where Justin made his first misstep. "I saw the opportunity three years ago and said 'no.' Luckily, I married a very smart girl." When Sara met with a friend, she immediately signed up. "At first this was just going to be a little project for me," Sara says. "I didn't really understand the pay structure and promotions. I just wanted to break records."
Quickly, though, the couple grasped the full extent of their opportunity—not just as a chance to achieve financial independence, but as a way to develop their leadership skills, help other people achieve their dreams, and plan ahead.
Investing For The Future
The Ledfords have already made a major investment for their future—seven acres of land in Costa Rica that's minutes away from some of the world's best surfing. Their goal is to build a dream home and to have enough residual income to live there. "We are very focused on building our residual income and leveraged income," Sara says. "I hope to be fishing, surfing and growing the business all from my phone," Justin adds.
"Attending AMBITION and watching the Simulcast and feeling all the energy from people definitely helped us achieve our dreams," Justin says. "We want to help others fulfill their dreams. Sometimes that means pushing them and keeping them focused on long-term success. Other times it means being a better leader."
Ambit Advice
For new Consultants, the Ledfords recommend setting daily goals, and targeting other successful, motivated people. They also emphasize the importance of training new Consultants on how to get Customers and inviting new prospects. "We also read a lot of inspiring self-help books and we always view this as a retirement business, so we never quit," Justin says.
"We really can see ourselves making our first million in the near future with Ambit," Sara says. "It's an amazing return on the time we put in."
Given their success in making EC in just seven months, that goal appears to be well within reach.
Our "Why":
Children, A life in Costa Rica and Helping our family
Time spent working our Ambit business:
Very part time 20-40 minutes a day for 7 months.

What was your single most-effective Success Tool, factor or influence for growing your business?
Targeting successful people
Name your favorite thing about AMBITION:
The Energy from all the people and seeing people fulfill their dreams
Thanks to the five SCs who helped in our promotion to Executive Consultant:
Cong Zhao, Justin Zhang, Islie Zhang, Jyh Hang Henry Chen, and Mei Ye
---
Featured Consultant
At Ambit Energy, we're inspired, proud, and even awed by the success stories we hear from our Consultants every day. Learn what motivates some of our top Consultants, read why they decided that Ambit was the right company at the right time, and maybe even pick up some inspiring tips to help you build your own business and achieve a similar level of success!