Financial Security Is Finally Feasible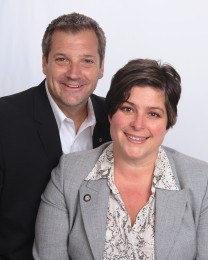 Gregg and Fran Day have been entrepreneurs since they married 16 years ago. For the past 14 years, the couple has owned and operated five Personal Care Homes. In addition to their business, Gregg and Fran love to spend time with their two daughters, Abbigayle and Mackenzie, 14 and ten.
Ambit Was A Happy Accident
Gregg and Fran found out about Ambit thanks to a wrong number. The couple has a hunting cabin in New York, located next door to Jim Mason, who was already involved with Ambit. One day, Jim accidentally called Gregg, intending to call Gregg's dad, Richard. When Jim learned he had Gregg on the phone, he invited Gregg and Fran to look into the Ambit Opportunity.
The couple visited at the Energy 526 site and decided to meet with Jim and his wife, Kim, ten days later during their trip to their hunting cabin. As soon as they met with Jim and Kim, Gregg and Fran signed up. At the time, the market wasn't even open in Western Pennsylvania, where they were living.
Right off the bat, the couple was impressed with Ambit. "Two things that we liked best were that you could open this business and recover your investment back by gathering 20 Customers – and get the Free Energy credit in the process," said Gregg. "Very little risk is what we saw compared to our traditional business."
Success Came Quickly Through Ambit
Gregg and Fran started off with a small goal: get their money back and earn Free Energy. What they didn't expect was to turn EC in 18 months after the Pittsburgh market opened and to be on a Five-Star trip with Co-Founders, Jere Thompson, Jr. and Chris Chambless at the St. Regis Resort in Punta Mita, Mexico. "Fran and I stood on the balcony of our room and actually started to dream again of what life could be like with Ambit," Gregg said.
While Gregg and Fran quickly reaped the ample benefits of Ambit, they were faced with their share of struggles as well. "The time it took to maintain a traditional business and grow a new business was a huge sacrifice for the whole family," said Gregg. The couple sat down with their entire family and everyone agreed to do whatever it took to get to a higher level of financial security for the future.
These days, the Days are closer to financial security than ever. Now they want to help others achieve the same success. The couple practices advice their pastor gave them when they first joined the business: help everyone in your business get what they want in their Ambit businesses and in a few years, you will have what you want. Although Gregg and Fran are well on their way to getting everything they want at Ambit, they continue work to help others attain their own personal goals! "We tell our entire team to use us and our EC pins in any way that will help them grow their business," said Gregg.
My "Why":
Financial security for the family
Time spent working our Ambit business:
Three to five hours a day
The single most effective success tool, factor or influence for growing our business:
The one-on-one, in-home presentation
My favorite thing about AMBITION:
Being a part of AMBITION and experiencing all the bonding and friendships and people in different stages of their own self-development. Also, the moment a new Consultant realizes how big this is going to be is priceless.
Thanks to the five SCs who helped me reach EC:
We are honored and blessed to have had the five people join our Senior code. They embraced this and became Senior Consultants themselves. It was and still is a great journey together. Justin Redpath, Augustus Delsignore, Jay A Kapusta, Donald Stachelek, and Jan Langland
---
Featured Consultant
At Ambit Energy, we're inspired, proud, and even awed by the success stories we hear from our Consultants every day. Learn what motivates some of our top Consultants, read why they decided that Ambit was the right company at the right time, and maybe even pick up some inspiring tips to help you build your own business and achieve a similar level of success!