Finding an Opportunity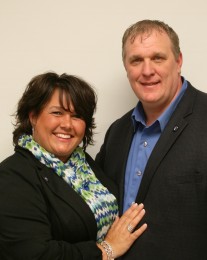 Rick and Jen Vahl's Ambit experience began with a trip to Atlantis. Not the lost continent, but the resort in the Bahamas. Rick had earned a trip for his outstanding performance as a top beverage sales leader. Unfortunately, during the trip there was a lot of conversation about how bad business was and how his employer might have to lay people off.
Realizing that they may not be able to count on Rick's job or Jen's job in banking, the couple considered options for other career alternatives. Shortly after they returned from their trip, the Vahl's learned about Ambit from their friends Steve and Connie Sunday. They signed up as Consultants in October of 2011, and in November got word that the company Rick worked for had been sold. For the Vahls, the Ambit opportunity had certainly surfaced at exactly the right time!
Building A Business And Raising Their Daughter Cortney
The Vahl's knew that making Ambit work for them would take a certain amount of their time, time that might interfere with their attending their teen-age daughter's many activities. "We sat down with her and showed her the business and what we are working for her and our future," Rick says. "She not only understood, she wanted to join!" While college will be a priority for their daughter, she is definitely going to be a successful Ambit consultant as she is a regional as of today.
"When we first started, we wanted to earn back our initial investment," Jen says. "Then it was off and running. After two or three months, we realized it's not just about money. It's about helping people, meeting people and showing others how to do the same."
For the Vahl's Ambit has created a sense of peace-of-mind, knowing there will be enough money for their daughter's future. And there's been another, unexpected bonus. "I had no idea working with my spouse would be so much fun," Rick says.
Banking On The Future
Thanks to Ambit, the Vahl's see a bright future. "We are becoming debt-free, and creating enough income to help our daughter make her dreams come true. Most of all, we will help others achieve their goals," Rick says.
The Vahl's have tips for Consultants seeking to emulate their success. "Be teachable, coachable and a good follower. Get to every training, every out-of-town event," Jen recommends. "Sponsor, sponsor, sponsor. Then come out and ask those who are working the business if they truly want to be Executive Consultants. Pick who you want to mentor and work your tail and theirs off," adds Rick.
Now that they've achieved EC, the Vahl's expect to travel across Ambit states to build their business and help others reach their dreams. Their journey to success.
Our "Why?"
To create generational wealth
Time spent working our Ambit business:
Not enough

What was your single most-effective Success Tool, factor or influence for growing your business?
Learning from Jim and Kim Mason, Brian McClure, Debbie & Chris Atkinson, and Tim & Missy Ulinger
Name your favorite thing about AMBITION:
Learning from the Top Leaders
Thanks to the five SCs who helped us reach EC.
We will always be thankful and grateful for your hard work and friendship. Dylan Reed, Ben and Ashley Cary, Val Johnson, Dawn and Pete Samuleson, Cindy Aronson.
---
Featured Consultant
At Ambit Energy, we're inspired, proud, and even awed by the success stories we hear from our Consultants every day. Learn what motivates some of our top Consultants, read why they decided that Ambit was the right company at the right time, and maybe even pick up some inspiring tips to help you build your own business and achieve a similar level of success!