Finding Hope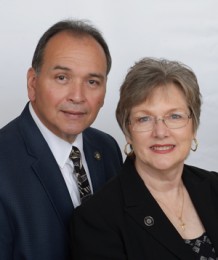 Life has been filled with many challenges for Suzanne and Johnny Duque. In 1991, Johnny was injured on a HAZMAT call in Galveston, Texas and spent eight days in the ICU. Although he survived the accident, he still suffers from COPD as a result and was forced to retire. The couple also lost one of their sons in an automobile accident, and Suzanne found herself stuck in a dead-end job just trying to make ends meet after a bankruptcy in 2002. She was so frustrated with her life she had retreated into playing online games at the cost of enjoying her real life.
That all changed for Duques when a friend told them about a way they could save on energy and earn an income. Johnny saw the power of the Opportunity right away. Suzanne took more convincing. "Being in accounting, I got the numbers, but I was too apathetic. Yet I did continue to go to meetings and I noticed how upbeat and happy people seemed to be. We began to attend every training we could," she says. "At first, we wanted to get Free Energy in six months," Johnny says, "and we did get Free Energy in six months." As they built their business, the Duques focused on adding Customers. It was only later that they truly understood how to take advantage of the Ambit Opportunity.
Discovering Opportunity
As the Duques continued to attend trainings and events, they learned more about Ambit. They watched more training videos, and Suzanne became active in Ambit-ious Women. They developed the power of the 5-2-6 program and their network of Consultants and Customers began to grow. "People we barely knew took the time to answer our questions, take three-way calls, mentor us and celebrate our successes," Johnny recalls. "I am now a more positive person and look forward to helping as many people as I can," says Suzanne.
They express that gratitude with more than words. "We help any- and everyone we can regardless of downline or crossline affiliation," Suzanne says. "We believe in our Ambit family. We reach out to our downline to motivate, train, push, pull, hold them accountable and push and pull some more." Outside of Ambit, they minister to families who have lost children and are active in their church and community.
Toward the Future
"We want to achieve NC and our purple jacket," Johnny says. The couple hosts joint meetings with another Consultant in the Houston area as well as in their home. Their advice for others is "Keep it simple, follow the proven system," Johnny says. "Don't overwhelm your new Consultant. Find out why they want to be in this business and hold them accountable."
Suzanne has already written two books with her friend Cassandra Washington and hopes to write another. She says, "I have a new lease on life and feel not only is life worth living, but I want to help others do what I've done."
Five EC Pieces
My/ our "Why?"
We both survived some tough times. We want to help others to be able to do the same: To become a better version of themselves.
Time spent working my/ our Ambit business:
15 – 20 hours a week.
What was your single most-effective Success Tool, factor or influence for growing your business?
the magazine (still wish they had the Darren Hardy "making the shift" CD in the kit. That was awesome.)
Name your favorite thing about AMBITION:
The comradery, being able to visit with those that have made it happen one on one in the lobbies of the hotels. Seeing Chris and Jere on stage and how humble and touched they are as well as watching the support and love that Leslie and Carolyn show – can't describe it other than to say – tear moments welling up. Both of our great leaders are such great story tellers and motivators!
Thanks to the five SCs who helped me/ us reach EC.
Andy Duque
Norma Torres
Eliza Lara
Zach Friudenberg
Michelle Dyson
---
Featured Consultant
At Ambit Energy, we're inspired, proud, and even awed by the success stories we hear from our Consultants every day. Learn what motivates some of our top Consultants, read why they decided that Ambit was the right company at the right time, and maybe even pick up some inspiring tips to help you build your own business and achieve a similar level of success!