Finding Time for Success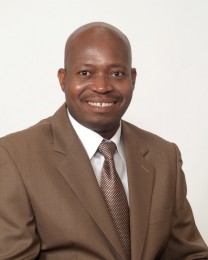 Before joining Ambit, Assene Moise was too busy trying to make ends meet to be really successful. He dreamed of completing his accounting degree, but with a family to support he simply couldn't afford to take any time off and work towards bettering his position in life. Assene knew it was a vicious circle, but he really didn't know how to break free and establish a path to financial freedom.
Then, an uncle invited him to Brooklyn to attend an Ambit seminar. Moise was impressed by the compensation plan and the business model. "I knew in my heart that not only can I help people to save money, I can earn a fortune by doing so," he says. He joined Ambit that same night as a Consultant, aware that this opportunity to earn residual income was exactly the thing he needed to earn time with his family and for himself.
"I believe Ambit is a vision with the power to create millionaires, and to change people's lives forever."
Discovering New Strengths And New Opportunities
When Assene started working with Ambit, he was still learning English and was afraid his lack of fluency might hold him back. He was especially worried about having to take on a leadership role with his team, and get out and network with people. What he found, though, was an organization of dedicated people ready and able to support him and his efforts.
"Ambit Energy gives me a platform that helps me make a difference in people's lives. Success doesn't speak one language, it is your will and determination that defines it," Assene says. His business has grown rapidly, and his sister and best friend have joined Ambit as a result of his success.
"I was amazed to see how quickly my return on my investment came back to me. Now as an Executive Consultant the door is open for me to achieve even greater success."
Building Team Spirit
"I always keep my Consultants motivated. We are like a family. We work as a team, and believe that is the only way to be successful. My passion is to help every Ambit Energy Consultant achieve financial freedom."
Moise believes that Ambit will always be part of his life, and that he will continue to grow with the company. "My dream is to become a National Consultant, and eventually an Ambit millionaire."
He also recommends that new Consultants attend AMBITION. "It's amazing to see all of us celebrating and encouraging each other's success."
From working two jobs to make ends meet to finding one job he can enjoy with a passion, Assene Moise is another example of how Ambit can help people write a success story in any language.
My "Why?"
I understand that only way that I believe success is to helping others have financial freedom.
Time spent working my Ambit business:
I work fulltime with Ambit Energy
What was your single most-effective Success Tool, factor or influence for growing your business?
Team work and dedication
Name your favorite thing about AMBITION:
Seeing all us celebrating and encouraging each other's success.
Thanks to the five SCs who helped me reach EC.
Roselaure Cadesca, Sorel Dantes, Jean Yves Berger, Jean Louis Louis, & Christine Nicuis.
---
Featured Consultant
At Ambit Energy, we're inspired, proud, and even awed by the success stories we hear from our Consultants every day. Learn what motivates some of our top Consultants, read why they decided that Ambit was the right company at the right time, and maybe even pick up some inspiring tips to help you build your own business and achieve a similar level of success!