Fixing a Financial Fiasco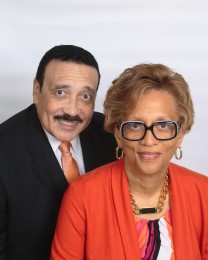 Prior to becoming an Ambit Consultant, Eric May served over 20 years with Maryland law enforcement. Then he worked in sales and marketing for another 20 years. When the economy began to drag in the late 1990s, Eric was forced to dip into his retirement savings just to make ends meet. "I suddenly realized I had not properly prepared for my retirement. So, I prayed for something that would deliver me from the financial mess I had created."
Sharon, an attorney, with her own law practice, had previously worked as a prosecutor. In 2013, another attorney invited her out to lunch and shared the Ambit Opportunity with her. Sharon had prior experience in network marketing but immediately recognized the differences between Ambit and the companies she worked within the past.
Helping Future Generations
While Sharon was excited about the Opportunity, Eric was hesitant because of some negative experiences he had with a previous network marketing opportunity. Despite his uncertainty, he watched the video. The possibility of residual income and the fact that he did not have to sell a product made a huge difference for him. Several days later the couple attended their first business presentation and signed right on the spot as Ambit consultants!
Eric and Sharon initially joined Ambit to pay the bills. When they realized how much they could help others, their 'Why?' changed. Their new goal is to fully fund a four-year scholarship in honor of their late daughter, Kimberly. "She wanted other young women of color whose drive and aspirations were suppressed by limited funds to get the same education she did."

No Stopping Them Now
No matter the obstacles the couple faces, they persevere. They want to encourage new Consultants to do the same. The couple also wants to motivate others to not be discouraged by rejection. "[It] is not a sign of defeat but just a part of our armor necessary to achieve success." Eric and Sharon hope to continue in their success to provide a comfortable retirement for themselves and leave a legacy for their family.
Five EC Pieces:
Our 'Why?':
We want to fully fund high-school scholarships at a private school for young women who value education as much as our late daughter did.
Time spent working our Ambit business:
We spend roughly 15-20 hours per week working our Ambit business.
What was your single most effective Success Tool, factor, or influence for growing your business?
Our most effective success tool has been scheduling at least one home meeting per week, a process which resulted in the promotions of our fourth and fifth SCs needed for our promotion to EC.
Name your favorite thing about AMBITION:
Our favorite thing about AMBITION is seeing old friends who have encouraged us and forging new relationships.
Thanks to the five SCs who helped us reach EC:
Pastor Ruth Smith, Larry Sume, Patricia O'Connor, James and Robin Covington, and Dr. Lennox Graham and Dr. Avis Graham
---
Featured Consultant
At Ambit Energy, we're inspired, proud, and even awed by the success stories we hear from our Consultants every day. Learn what motivates some of our top Consultants, read why they decided that Ambit was the right company at the right time, and maybe even pick up some inspiring tips to help you build your own business and achieve a similar level of success!