Focused on Success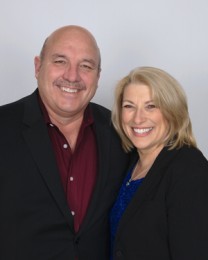 Focused on Success
There's always a good time to make a change. Wayne and Nancy Hill were both widowed at a young age. With two kids each and promising careers, they focused on family first. They soon realized they needed, and wanted, more time to do things as a family and as a couple. There was only one problem. "We were focused on setting our children up for success," Nancy said. "This left little time or financial resources for the two of us to enjoy life the way we wanted, and to be honest, enjoy time as a couple!"
In the Beginning
All of this changed once they started their Ambit business. "Our Ambit journey to EC allowed us to gain some very valuable family time," Wayne said. That meant they were able to be with and support their parents during their final years. They learned the meaning of time flexibility and defined it more for themselves when their daughter battled kidney disease. "We are able to be there for her, transport her to numerous medical visits and dialysis that she receives three times a week." With a regular 9-5 job, they both admit it might have been harder to take off that much time. The good news is today she's a candidate for a kidney transplant.
Challenge Accepted
In the beginning, Nancy didn't have much of an entrepreneurial spirit. "I had a much more limited vision." However, that quickly changed. "Once I realized we actually helped people save money on their bills, then saw we were able to help my sister receive a Free Energy rebate check, then saw we got paid to do that – I was all in!" Now, they have several accolades they can add to their Ambit resumes after working so hard – being among the first to open the Massachusetts and New Hampshire market, the SC Dream Team award for 2016, and lastly, their new roles as ECs.
As ECs, there are a few pieces of advice they pass on to all new Consultants. They suggest to be coachable and learn, follow and teach the Ambit system. "To know and understand this from day one would've been a huge time saver." Their focus is to help other people achieve greater personal growth and to guide them through this system. "We've found that at times we have more belief in them than they have in themselves." That belief is what has led them to so much success, and on the road to NC.

Five EC Pieces
Our "Why?"
Nancy and I always had a dream/"Why" to build mobile income so we could travel and build our business together.
Time spent working our Ambit business:
We enjoy the time together and neither of us really wants to retire from business totally – we enjoy engaging with and helping people too much and we see ourselves traveling to new/existing markets to build our business.
What was your single most-effective Success Tool, factor or influence for growing your business?
Learning how to effectively use the Success from Home magazine in the recruiting process. This allowed us to be more effective in "Filling our Funnel" with qualified prospects.
Name your favorite thing about AMBITION:
We love meeting up with and networking with the positive, entrepreneurial business owners that attend AMBITION each year. And when Ambit announces the vision and expansion details – it really get us charged up!
Thanks to the five SCs who helped us reach EC.
Larry/Ellen Casey – Londonderry NH, Ron Rasch – Rochester, NH, Joseph/Carissa Marcouillier – Nashua, NH, Louis/Vicki Lopez – Brookline, NH, Randy/Trisha Brownrigg– Hudson, NH
---
Featured Consultant
At Ambit Energy, we're inspired, proud, and even awed by the success stories we hear from our Consultants every day. Learn what motivates some of our top Consultants, read why they decided that Ambit was the right company at the right time, and maybe even pick up some inspiring tips to help you build your own business and achieve a similar level of success!