Fourth Time is the Charm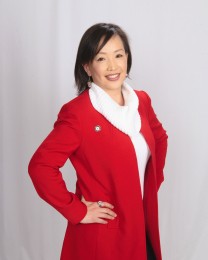 "Fourth Time is the Charm"
If there's one thing Xinping Ning knows how to do, it's how to run a business. After owning three businesses in three very different industries (a restaurant, hair salon and moving company), Ning knew it was time for her to find a new way of life. "Despite having my own businesses and making some good money, I lost my time," she said. She juggled 12-hour workdays, raised her son as a single mother and focused on building a life for her and her son. After moving to the United States from China, Ning started over and focused on learning everything about her new environment. "In order to make a living, I had to work and try different things," she said. There was one new thing that slowly but surely became her only thing.
Volunteering Leads to a New Energy
It was while using a little of her limited free time to give to others that Ning found out about the Ambit Opportunity. "While volunteering, a friend of mine told me that he could help reduce my utility bill. But he didn't tell me that I could also make money at the same time." Ning spent a lot of time volunteering at Tzu Chi, a non-profit organization in San Francisco. She compared her work at Tzu Chi to her work at Ambit. It was an easy jump for her to join the Ambit Opportunity and start her own business. "I like volunteer work because I like helping people. Being an Ambit Energy Independent Consultant, I can help others save some money on their utility bills," she said.
She transitioned her role in her other ventures to her business partners so she could focus on building a business at Ambit. Her rapid ascent to Executive Consultant in 20 months earned her continued dedication to doing and achieving more. "My Ambit business is so unique because there're no inventories, no deliveries and no collections to deal with; and most important of all—-we are dealing with energy, a necessity in life."
Growing Pains
Ning's business at Ambit was no easy task. There were challenges, misunderstandings and discouragement from friends. However, Ning knew that by being persistent and consistent that she could overcome those hurdles.
"I know that no business is easy especially at the beginning," Ning said. However, there were a core group of people who stood by her which gave her the support she needed to continue building her business: Kenny Yeung and his wife, her team members, EC Henry Ye and most important, her son. "I love my son. He's my #1 and my everything."
---
Featured Consultant
At Ambit Energy, we're inspired, proud, and even awed by the success stories we hear from our Consultants every day. Learn what motivates some of our top Consultants, read why they decided that Ambit was the right company at the right time, and maybe even pick up some inspiring tips to help you build your own business and achieve a similar level of success!