From a Long Vacation to a Long-Term Opportunity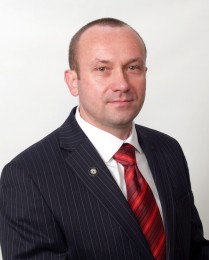 A little more than 20 years ago, Robert Wujda came from his native Poland to visit his father. And he never left. Instead, he met a nice girl, settled down, and started a career in the construction industry. Currently, he owns a restoration company that helps people recover and restore damaged properties. He's also the proud father of twins.
Robert's Ambit story begins when another of his businesses, a custom home company, failed in the tough economy. His friend Richard Tarnacki called him and told him to meet him at a hotel in the Chicago suburbs. "For some reason, I didn't ask him why or what for, I just had a feeling this was something big," Robert recalls.
"Before the presentation ended, my only question was what did I need to do, and when could I start?" Robert initially thought he could increase his monthly income by a few hundred dollars a month. But then he saw an even bigger opportunity. "My restoration company is profitable, but it has a huge problem. I have no time at all for my family. With Ambit, I can become financially free and get quality time with my loved ones."
Building A Successful Business
Robert credits the support of his wife Agnes for supporting him as he built up his business, especially early on when many of his potential customers didn't understand how deregulation affected them. He also had to learn how to be a more effective sales person. "It was hard for me because of my accent," he says, "but I learned how to be a salesman. I learned I enjoy helping others in Ambit, but also in other aspects of my life. I've become a better father and husband."
He's also very committed to his team. "I go to home meetings they set up. We have hotel meetings and trainings on the North Side of Chicago, and I will start meetings closer to the South Side in the near future."
The key is persistence. "The only people who will not succeed at Ambit are the people who quit. Whether it takes one year or 10 years, if you keep working Ambit you will be successful."
Moving Ahead And Achieving New Goals
Robert sees a bright future for his business. He is traveling to California to expand his business, and hopes to become the number one money earner in Illinois for 2013. He also expects to be able to focus on working his Ambit full-time in the near future.
"I will become financially free, and I will help as many people as I can to achieve their goals, become financially free and spend quality time with their families."
He also plans to continue attending AMBITION. "I wouldn't be where I am if except for AMBITION. Anyone who does Ambit just has to go there."
For Robert, Ambit has turned out to be the opportunity of a lifetime of financial freedom.
Our "Why?"
Our WHY is to become time and financially free and help as many as we can to achieve their goals and quality time with their families.
Time spent working my/ our Ambit business:
It was the best time ever, because I have meet so many like-minded people, with a big heart which are willing to sacrifice their own time to help others reach their goals.
What was your single most-effective Success Tool, factor or influence for growing your business?
Becoming responsible for my own success.

Name your favorite thing about AMBITION:
It Creates Excitement and motivates every like nothing else. I would never have gotten where I am without attending AMBITION.
Thanks to the five SCs who helped me/ us reach EC.
Jozef Trela, Bob Baldassari Jr., Renata Bielska, Nicole Laba and Ewa Jarzabek.
---
Featured Consultant
At Ambit Energy, we're inspired, proud, and even awed by the success stories we hear from our Consultants every day. Learn what motivates some of our top Consultants, read why they decided that Ambit was the right company at the right time, and maybe even pick up some inspiring tips to help you build your own business and achieve a similar level of success!