From "Big Thinkers" to Big Success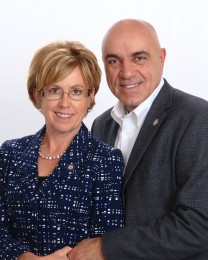 Kim & Jim Mason promoted to National Consultant on Sunday August 24th.
We congratulate them on this remarkable achievement!
It takes vision and courage to sell your business of 25 years and start a new one. But that's what Jim and Kim Mason did, and they've begun a new life thanks to Ambit Energy.
Raised in a town of about 600, Jim started his own landscaping business at a young age. Kim, his wife of 20 years and bookkeeper for the family business, grew up an "Army Brat" and was used to moving every few years.
As their landscaping business grew, so did their family - with the arrival of daughters Kazlin and Halee, and their son Ryan. But hard work took its toll and Jim often worked long nights, weekends and holidays.
During a trip to Charlotte, NC, Jim and Kim agreed to re-prioritize and re-evaluate things. They followed their instincts and sold their 25-year old landscaping business so they could take a chance on a new business opportunity with a company they had recently been introduced to - Ambit Energy.
"I Think We Need to Do This"
The Masons were introduced to Ambit by friends Greg and Beth Korcyl. Greg just handed Jim a Success magazine and told him to "take it home and let Kim read it." Kim read through the magazine and played the DVD in bed - and couldn't fall asleep. She kept poking Jim: "I think we need to do this."
What impressed them the most about Ambit was not having a product to sell. Having tried another network marketing business years before, they recognized how Ambit was different. Jim was struck by the outstanding income potential, and had never heard of another direct selling business that enabled people to "buy their life back."
A Fast Start
Jim and Kim were "big thinkers" and committed to try Ambit full-time for three months, with the goal of sponsoring one person per month. After 28 days they promoted to RC right in the middle of the winter holidays. Two months later, they reached SC.
The Masons remember EC Chris Atkinson inviting them to dinner before a presentation and asking, "So, when will you be Executive?" Chris made them realize they could do it, and they worked with whoever would let them until the business took off.
Reaching EC in 9 months was their goal and motivation, and they knew the only way to get there was to help their team.
"We love this business compared to what we had to do to be successful in the past," says Kim. "This is a walk in the park! We love to hear the 'dings' on our cell phones and know that another person is about to change their life."
Family Support
Currently, oldest daughter Kazlin is in Graduate School and has promoted to SC. Halee, the middle child (also an SC), is a junior in college. Their youngest, Ryan, can't wait for the day to begin his Ambit business.
Kim advises: "Just stay focused and steadfast. Don't let anyone shake your tree, even your own family and friends. Eventually, they'll see that you are serious about your business, and that it's much more than a 'hobby.'"
More Helpful Advice
Jim and Kim agree that new Consultants need to "work this business like your life depends on it. Think of this business as a membership to the gym. You paid your $429.00 for the membership, but nothing will happen if you don't go to the gym and work out. The same holds true here. The more you do it, the better you get."
"Time is your most valuable asset, so take the time to build your business and to grow personally. If you don't like where you are, change it! If you plug into the system you will be successful: if you don't, you won't."
---
Featured Consultant
At Ambit Energy, we're inspired, proud, and even awed by the success stories we hear from our Consultants every day. Learn what motivates some of our top Consultants, read why they decided that Ambit was the right company at the right time, and maybe even pick up some inspiring tips to help you build your own business and achieve a similar level of success!