From Cheesemaker to Chiropractor to Consultant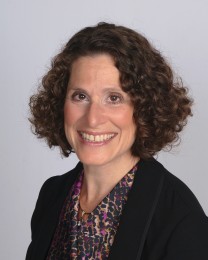 EC Dr. Nancy Cappiello Larson grew up working in her family's cheese business, working weekends, summers and holidays from the time she was five years old. That experience taught her the value of hard work, so when it was time to head off to college she was able to successfully complete a rigorous premed program, complete her chiropractic degree and establish a successful practice. She also started raising her three kids. But, as so often happens, life had some unexpected challenges in store.
A divorce left her with a steep credit card debt she hadn't known about. She made the difficult choice to use her childrens' college funds to get back on her feet financially, but was worried about their futures. That's when a friend called and introduced her to the Ambit Opportunity. "Fast forward nine years, and I get a beautiful residual check. Through Ambit I've been able to pay for two college educations, soon to be three. Then I'll be able to create the retirement of my dreams."
A Prescription for Success
For Dr. Nancy, success didn't come easily or immediately. "I lacked confidence in myself, and was afraid of letting others down," she says. "I would get caught up in what individual team members were doing instead of building a team that supported each other." For her, the turning point was when the Polar Vortex hit New York in 2015. She knew her team was counting on her for leadership, and she stepped up. "I kept meetings going every week, even if I was the only one who showed up. Now we have had full attendance for two years and continue to grow!" Nancy believes that the lesson here is to keep working, and to use the system to create new leaders who can duplicate success. She's also very proud that two of her children have joined her business and promoted to Senior Consultants. She is also very thankful and proud of her TEAM and their hard work!
Prognosis: Excellent
Looking ahead, Dr. Nancy hopes to expand her Ambit business into new markets. She is developing a system for her team to bring in new MCs, help them get Free Energy and start them earning paychecks to keep them motivated and involved in the business. Dr. Nancy also has a vision for personal life. "I see myself enjoying my family and not worrying about finances. I see myself as a National Consultant traveling the world and helping others achieve Financial Freedom."
It's a strong vision from a leader who's proven that hard work and a commitment to helping others is the best medicine.
Five EC Pieces
My/ our "Why?"
Travel and life without being on a budget, creating a legacy for my grandchildren.

Time spent working my/ our Ambit business:
Nine years at 5-10 hours per week and it will continue and expand.
What was your single most-effective Success Tool, factor or influence for growing your business?
Sheer determination and the fear of loss if I gave up…turned to the power of three.

Name your favorite thing about AMBITION:
The excitement and welcoming family feeling.

Thanks to the five SCs who helped me/ us reach EC.
My first SC (my daughter) Julia Larson
SC Conrad Bennett
SC John Frodella
SCs Linda and Bill Babbage
My last SC (my son) Stephen Larson
---
Featured Consultant
At Ambit Energy, we're inspired, proud, and even awed by the success stories we hear from our Consultants every day. Learn what motivates some of our top Consultants, read why they decided that Ambit was the right company at the right time, and maybe even pick up some inspiring tips to help you build your own business and achieve a similar level of success!