From High School to Executive Consultants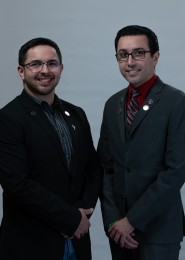 Justin and Joshua Duncan knew what they wanted in life early on. Before Ambit, Justin worked part-time while in high school while brother Joshua volunteered at church and ministered. "We watched our parents and other leaders in the business for a couple years before we joined. Seeing all of these people succeed and hearing their testimonies made me want to do what they did." When he turned 18, Justin decided it was time to start his Ambit business.
Joshua needed more convincing. "He agreed to refer people to me to help me promote in the business, and in return, I agreed to split the paycheck with him," Justin says. This dynamic brother duo knew Ambit Energy had the possibility to change their lives for the better, even at a young age.
Graduating to the Big Leagues
Because of their youth, Justin and Joshua ran into a few setbacks on their path to Executive Consultant. "Most of the adults that we talked to already had a career and were doing well in life. They wouldn't take a look at the Opportunity or turned us away because they thought they knew more than us." But they saw something more. "After making my first check with a comma in it during a Triple Bonus promo, I saw this business could offer me than I first
realized." Joshua saw that the business created a level playing field for everyone.
"Most people our age are either working paycheck to paycheck or have to live with their parents." Yet, these two have been able to make changes in the way they live, now, and with great benefits. "One of the biggest accomplishments for both of us is having time with those that we care about most. That's a pretty big deal."
Studying for the Next Level
The pair's "Aha" moment came when they realized how Ambit would help them toward their retirement goals. "Our 'Aha' moment came from going to so many presentations and hearing so many people in their testimony say how working until they got old enough to retire was not the way to retire." That's how they knew they were on the right path.
Their next goal is simple as they look ahead to NC. "We want to be fully retired before age 30," they said adding, "We'll continue to keep Ambit part time because that is how we started, but we'll have a much freer life than most young adults can only dream to have" With their fast-track to success and determination, we expect nothing less from Justin and Joshua Duncan.

Five EC Pieces
Our "Why?"
To have the time and money freedom to spend with the people and on the things most important in our lives.
Time spent working our Ambit business:
Thirty minutes to an hour a day.
What was your single most-effective Success Tool, factor or influence for growing your business?
Letting other people talk about themselves and eventually we would come across their why and could show them how Ambit could help them reach it.
Name your favorite thing about AMBITION:
The opportunity to network, learn and grow with so many others that are on the same path as we are!
Thanks to the five SCs who helped us reach EC.
Christopher Lucas, Emerson Fuentes, Julia Saldivar, Rachel Moreno, Renee Martinez
---
Featured Consultant
At Ambit Energy, we're inspired, proud, and even awed by the success stories we hear from our Consultants every day. Learn what motivates some of our top Consultants, read why they decided that Ambit was the right company at the right time, and maybe even pick up some inspiring tips to help you build your own business and achieve a similar level of success!