From Housewife to Entrepreneur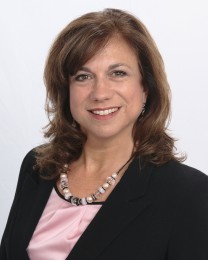 After relocating from Arkansas to Texas in 2008 for her husband's new job in ministry, Lisa and her family were feeling pressure financially. At the time, three of the Pulliam's four children were teenagers, who would soon need cars, braces and money for college.
To bring in some extra income, Lisa began substitute teaching at her daughter's elementary school, with plans of going back to school to become a full-time teacher. Soon before she was about to begin classes to become a teacher, a friend of Lisa's husband shared all about Ambit. That friend was Executive Consultant Coach Alan Johnston.
Lisa was most impressed with Coach Johnston's quick success and the fact that she could make money immediately in the business, even with a limited knowledge of Ambit Energy or the energy industry in general.
Ambit Exceeded My Expectations
When Lisa began her Ambit business, she asked her husband if she could quit teaching and turn Ambit into her full-time job if she made enough money to replace her teaching income. When she got a 'yes' from her husband, Lisa was off to the races!
"Not only did I replace that teaching income in the first couple of months of my business, but three years later my little "part-time energy business" has become a second income for our family, which helps pay the monthly tuition for our daughter Emily at her university," said Lisa.
Not only has Lisa's income been helpful for her family, she has been able to grow professionally as well. Three years ago, she helped Coach Johnston start a corporate meeting in Tyler. She took on a leadership role and began practicing her presentation skills.
"I realized how much I love presenting and speaking in front of a group. Our Tyler meeting grew from 40 to over 100 and was selected for the Ambition Tour in the summer of 2011 and the Simulcast Executive Tour in January 2012 and 2013," she said.
Ambit Has Become My Income Vehicle
Overnight, Lisa went from housewife to entrepreneur. "I had become very good at managing and running a household," she said. "But I had no idea how to be the CEO of my own business."
Lisa quickly became a sponge for knowledge, training and mentorship. She began reading, growing and learning from the best of the best at Ambit. "I often had to battle that little voice inside my head that told me I couldn't do this," said Lisa.
The more Lisa got out and faced her fears, stepping out of her comfort zone, the more her confidence developed and the more success she had. "It has been the most exciting ride of my life," she said.
Because of Ambit, Lisa no longer wonders how her family will make it through the next 10, 20 or even 30 years. "To have a vehicle with the income potential, the integrity and the leadership of Ambit Energy has absolutely changed my outlook for the future," said Lisa.
Ambit has given Lisa the dream of traveling the world with her family and living with a freedom like she's never had before. "I have a goal of empowering thousands of people to pursue a life of passion and purpose. I am excited about teaching, training and traveling to new states and helping open new markets," Lisa said.

My "Why":
Being able to provide for my four children the way my husband and I desire with a college education, cars and just life. Down the road, I'd like my husband to be able to pastor a church because he wants to, not because we can never afford to retire.
Time spent working our Ambit business:
Sometimes an hour a day, other times five hours a day. Lately, in my push toward EC, it's been more like 10 hours a day.
The single most effective success tool, factor or influence for growing the Ambit business:
The support of my sponsor, Coach Alan Johnston; motivation; inspiration; dedication; and friendship throughout the journey has been invaluable. I will always be grateful that he cared enough about our family to extend this life-changing opportunity to me.

My favorite thing about AMBITION:
The hugeness of it… it is an awe-inspiring event. At Ambition, the belief in this company sinks deep into the souls of those who attend. I always love hearing Jere and Chris speak, as well as the top awards on Saturday.
Thanks to the five SCs who helped in the journey to become Executive Consultant:
Randy Phillips, Brian Jones, Dell and Tracy Tilley, David Talancon, and Emily Pulliam
---
Featured Consultant
At Ambit Energy, we're inspired, proud, and even awed by the success stories we hear from our Consultants every day. Learn what motivates some of our top Consultants, read why they decided that Ambit was the right company at the right time, and maybe even pick up some inspiring tips to help you build your own business and achieve a similar level of success!