From Humble Beginnings to Thriving Success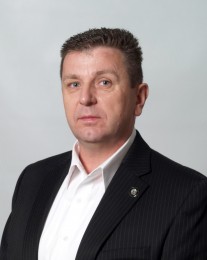 Ryszard Tarnacki was raised with 11 siblings in a small village in Poland. Each day it was necessary to work the family farm just to provide enough for the large, close-knit family. "Counting my parents, we had around 14 people living in one house," Ryszard says. "So every day from sun up to sunset we worked to sustain our family." Unfortunately this left very little time for studies and schoolwork, so sacrifices needed to be made. After his first year of high school, Ryszard decided to leave school to support the family full time. After several challenging years and watching his siblings grow into adults, he was ready, at 25, to venture out and create a better life for himself in America.
Once he arrived in the states, Ryszard began working with skilled masons in the construction industry. After years of honing techniques and developing his workmanship, he began his career as a full-time mason. Soon after, he launched his own construction company specializing in masonry services – one that he's proud to say has been going strong for 18 years now.
The Opportunity He'd Been Waiting For
With a successful career he had built from the ground up, Ryszard was afforded time to spend with his own growing family. One day while waiting for his children in swimming class, he sat among a group of other parents. It was there he overheard a conversation about Ambit Energy. "I was very interested the moment I heard, so I asked the woman (who would become my future sponsor) to tell me more and I wound up inviting myself to a business presentation," he explains.

"As soon as the presentation was over, she asked me, 'What do you think?'" he recalls. "I told her, 'There is nothing to think about, let's do it.' So I signed up right then and it was one of my smartest decisions yet."
Spreading the Wealth
Ryszard was very eager to share the Opportunity with those he knew, but he was surprised to find only close friends seemed to listen. "My best friend, Robert Wujda, was the first Consultant to join my team," he says. "And he actually promoted to EC a day after me." But once they saw the business and income he was able to generate, they were ready to see how it could change their lives, too.
"I believe that your team is everything. Helping them is a very good gesture and of course it helps me too," he adds. "Even when Consultants who aren't part of my upline or downline come to me with questions, I still help them as much as I can because nothing would make me happier than seeing other hard workers succeed as well."
The Ride of His Life
Fueled by his determination to reach his Ambit potential, Ryszard put in the work and started seeing real results. Then during AMBITION 2012 General Session, he got a full-throttle thrill when he won the first-ever, custom-made Ambit Harley Davidson, valued at $25K. But his benefits and rewards from Ambit kept growing.
"The thing that impressed me most about this business is the unlimited income you can make," he says. He also credits Ambit with helping him improve his English skills, as well as giving him a renewed strength and confidence in speaking with people.
Looking to the Future"My why has always been to finally have the Financial Freedom I could only dream of as a kid," Ryszard admits. "I want to be able to put my kids through college, buy a new house and travel all around the world."
Growing up working each day on the farm with his siblings and struggling to make ends meet gave him a unique perspective on teamwork. Looking forward, he is determined to help as many others achieve their greatness as possible. His next goal is to promote to NC and branch out into markets so that he can help new generations see the Opportunity.
"My best advice for new Consultants is to never quit, and never get discouraged when someone turns you down," he says. "The truth is, most of the people that you will talk to will not believe in this company. But imagine if you signed up another Carlos Marin or Rigoberto Yepez. It only takes one person to help you reach your financial goals."
My "Why?"
To have Financial Freedom to put my kids through college, buy a new house and travel all around the world.
Time spent working my/ our Ambit business:
Everyday about an hour, not including the presentations.

What was your single most-effective Success Tool, factor or influence for growing your business?
Definitely the Success from Home magazine and the live business presentations.
Name your favorite thing about AMBITION:
The trainings and the motivational speeches. Oh, and the prizes, since I won the first-ever custom made Harley Davidson.
Thanks to the five SCs who helped me reach EC.
Douglas & Mari Fren, Michael & Tracy Wal, Mateusz Tarnacki, Iwona Molecka, and Elizbieta Tarnacki
---
Featured Consultant
At Ambit Energy, we're inspired, proud, and even awed by the success stories we hear from our Consultants every day. Learn what motivates some of our top Consultants, read why they decided that Ambit was the right company at the right time, and maybe even pick up some inspiring tips to help you build your own business and achieve a similar level of success!