From Puerto Rico to Chasing a Dream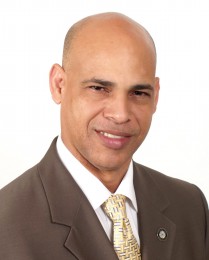 Born on the island of Puerto Rico as the oldest of six, Luis remembers how from a very young age he learned to fend for himself. And he keeps doing it throughout his life.
He studied at the Universidad Politécnica in Puerto Rico with a focus in Electrical Engineering. After 17 years working from company to company, he realized all he did was exchange his time for money. This was the time he decided to start his own company of electric generators.
"A short time later I once again became a slave, but this time to my own company," Luis recalls. By putting God first, Luis prayed to be able to reach his goal of financial freedom. "I received many opportunities from multilevel companies but none motivated me to accept until Ambit arrived," he says.
A Journey To The Future
The Ambit Opportunity arrived thanks to an email from Ramon Morell, whom Luis did not know. "I decided to research Ambit Energy and I was surprised since energy is something we all use," says Luis. Three days later, Luis traveled from Puerto Rico to Dallas to investigate more about Ambit Energy. As he visited the corporate offices, Luis recalls, "I had the blessing of speaking with Jere Thompson and Chris Chambless, in whom I saw integrity and a vision to the future and that gave me assurance."
Even though he was excited about his visit, Luis went back to Puerto Rico a bit nervous. "I remember when I was on the plane back to Puerto Rico and I kept telling myself, "you don't know anyone in Texas, you've never been involved in the multilevel industry, you have no idea how to develop the business, you have no time to spend on this because of your business back in Puerto Rico." But my dream of gaining financial freedom was bigger and I decided to get started."
The Path To Success
Luis recalls how many of his family members and friends would laugh and say that he was crazy but as soon as they saw the success he was having with Ambit Energy, now many of them think Luis has had good luck with his Ambit business. "What they don't know is that success is not a destiny, but a path that we have to travel every inch of the way," says Luis.
Very soon he realized that people who had success with Ambit were normal people with a great dream and a hope to change their lives, and he had the same wish. One Sunday, Carlos Marín invited him to his house with him and his team of Consultants. "I remember that before leaving his home I stood up in front of Carlos and I said, "Here is a National Consultant." After a conversation with Carlos, Luis decided to move to Texas from Puerto Rico and give his 100% to his Ambit business. Now Luis dedicates fully to his Ambit business as an Executive Consultant and says, "I realize I have just begun, and that there is plenty more to do."
Obtain Your Dream And Grow
"I am very blessed for having wonderful mentors such as Carlos and Cecy Marín. My wife and I are eternally grateful for their time and teachings that they have shared," says Luis. He is also proud of his team of Consultants who give 100% of their lives to reach their dreams with the Ambit business.
Luis sees a wonderful future for thousands of people who make the decision to change their lives and would like to have success in their Ambit business. He says, "To all new and existing Consultants, my best advice is the following: First, have a great dream, a dream that motivates you to go the extra mile to be the best in the Ambit business. You first grow within you, and you will be able to attract more people with your enthusiasm. Do not miss any activity related with the Ambit business. Attend all seminars, weekly meetings, trainings and conventions. But understand that you first need to grow within yourself so you can later see the wonderful results in your business." It is very important not to play with your future, "take advantage of the opportunity Ambit has offered you. There is nothing that will get us closer to God then being great dreamers."
---
Featured Consultant
At Ambit Energy, we're inspired, proud, and even awed by the success stories we hear from our Consultants every day. Learn what motivates some of our top Consultants, read why they decided that Ambit was the right company at the right time, and maybe even pick up some inspiring tips to help you build your own business and achieve a similar level of success!