From Skeptic to Believer
Jane Bell, Executive Consultant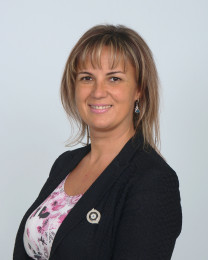 Jane Bell's story starts in Leningrad. After completing her primary education, she felt the urge to study English. She came to Vermont at the age of 18 and spent six months learning the language, then returned home to Russia.
And quickly discovered she missed America. A lot.
So much that four months later she moved to Chicago and got a job as a nanny. Jane was soon joined by her mother. From there, Jane moved on to a job with a car rental company and went to college where she studied computer programming, then worked at a staffing company. "I found I really enjoyed 'connecting' people," she says—little did she know her work was preparing her for Ambit success.
Overcoming Obstacles
In 2003, Jane was diagnosed with Multiple Scleroses. Drawing on inspiration stories from Curing the Incurable by Jackie Riggs, she started Success Media Group, an organization designed to help entrepreneurs grow their businesses. She also started to hear stories about Ambit Energy. "About every six months or so a new Ambit Consultant would approach me," she says. "I found it very annoying, to be honest."
But one person just wouldn't give up. "My business partner, Tom Jikomes, was very persistent. I decided to join, thinking that would keep him quiet. I was sure it was not going to work, and in one year I could cancel."
But something happened. "First, I started to save money. Then I started to make money," Jane explains.
And Jane was on her way to not only achieving her goals, but to helping others achieve the same goals.
Looking forward to Success
While Jane has achieved a lot, she hopes to do even more. "I want to treat this as a Million Dollar business," she says. "I plan to travel to other states and to do weekly meetings." She tells new Consultants "I wish I knew from the beginning that this business is not about me, it's about my team, helping others to achieve the American dream."
Thanks to her hard work and determination, Jane and a lot of other Consultants are doing just that.
Five EC Pieces
My/ our "Why?"
Financial Freedom
Time spent working my/ our Ambit business:
5-10 hours a week
What was your single most-effective Success Tool, factor or influence for growing your business?
Bringing a guest to local BP or meeting a prospect 2 on 1
Name your favorite thing about AMBITION:
New market announcements, double/triple bonuses

Thanks to the five SCs who helped me/ us reach EC.
Ella Tkach
Emily Becker
Katia and Robert Doguzov
Alexander Shulmanovich
Svetlana HIemenz
---
Featured Consultant
At Ambit Energy, we're inspired, proud, and even awed by the success stories we hear from our Consultants every day. Learn what motivates some of our top Consultants, read why they decided that Ambit was the right company at the right time, and maybe even pick up some inspiring tips to help you build your own business and achieve a similar level of success!