From Small-Town Beginnings to Big-Time Success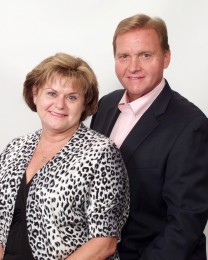 Growing up in Stony Point, NC - with its population of less than 1,000 people - EC Jerry Watts had goals and dreams that stretched far beyond the three-square-mile town. But it wasn't until he plugged into Ambit that his experience, ambition and hard work took him further than he ever thought possible.
In 1976, after graduating high school, Jerry married his sweetheart, Pam.
"Throughout the years, my wife and family have been a steady source of support and encouragement," says Jerry. "About a year after I married my amazing wife, I learned about a great new opportunity to earn money and long-term income. I was eager to be my own boss, so with Pam's support I took the leap into network marketing. We just knew we were going to be multimillionaires!"
But Jerry wasn't earning anywhere close to the income they'd expected - especially after "eight years of pushing expensive products and training to turn 'No' into 'Yes,' driving thousands of miles in my worn-out car, racking up credit card debt and packing on 30 extra pounds. I knew it was time to 'disconnect' from the network."
He tried insurance sales and smaller-scale network ventures, and began to achieve financial security. Soon, Jerry and Pam were able to start their family with sons Chris (now 28) and Jordan (now 20).
Opportunity Only Rings Twice
"In 2007, our good friend G.W. Baker called from Texas, asking if I would be interested in free energy," said Jerry. "He explained a little of the plan, but I had to refuse. I had invested so much of time, money and energy with that first company and didn't think it was a good idea."
But G.W. wouldn't give up. After three months of calls, Jerry finally agreed to a three-way call with G.W. and [National Consultant] Ronny Kirkland.
"As soon as G.W. got me on the phone with Ronny, that was all it took. Ronny even offered to come to North Carolina and help us get started. I signed up that night."
As soon as Ronny and his wife Karen arrived the following week, Jerry and Pam got to work. "We kept asking people: 'Who do you know in Texas or New York?'"
"I soon noticed that everyone we introduced to Ronny signed up," recalls Jerry. "Not because he's a legend in the industry, and not because of any pushy sales techniques or flashy presentations. Because he's a down-to-earth, good guy - and he showed us how to 'Locate, Educate, and Motivate Ambitious People." Learning & Building
Jerry admits: "Ambit was completely different than my previous company."
But Ronny helped him realize the value of building a true residual income based on a utility - "something everybody uses every day - and not a lotion, potion, pill or juicy juice," winks Jerry.
With the "amazing support" he received from his upline, Jerry's business really began to take off.
Meeting Goals & A Strong Team
From the beginning, Jerry and Pam just wanted to earn enough to make their house payment. "That happened in our first 10 months!"
"We're so proud of our team," declares Jerry. "It's only because of their consistent hard work that we've been able to succeed and promote."
Jerry is grateful to "the people who make things happen" for his business: "Couples such as Charlotte and Glenn Gilpin, the Bloggs and the Barnes are all the type of people you love to sponsor!"
Looking Ahead
"I'm looking forward to spending more time in Texas and the other markets," says Jerry. "We have an exciting future ahead!"
Jerry hopes that Ambit expands to North Carolina, because "as soon as we open there, I just might sign up 100 the first month!"
He has simple but powerful advice for new Consultants: "Do something every day to grow your business. Even if it's just listening to what people are saying - because they'll almost always give you an opportunity to talk about saving money and being your own boss - and then you can introduce your company to them."
Just like G.W. Baker and Ronny Kirkland did for new Executive Consultant Jerry Watts a couple years ago!
---
Featured Consultant
At Ambit Energy, we're inspired, proud, and even awed by the success stories we hear from our Consultants every day. Learn what motivates some of our top Consultants, read why they decided that Ambit was the right company at the right time, and maybe even pick up some inspiring tips to help you build your own business and achieve a similar level of success!