From Various Jobs to God's Plan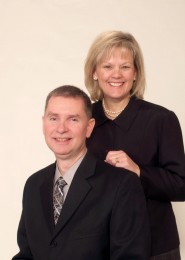 Duane and Kathleen Fetherbay have four grown children and two grandchildren (with one on the way), and have built a nice life for themselves.
Duane was in the Air Force for seven years as an electronics technician working on B-52s, and has worked as a technical instructor, technical writer, a mechanic and a farmhand before settling into a position at Lockheed Martin. After her kids were off to college, Kathleen was a building inspector, a teacher at a Christian school and worked with Autistic kids at the local elementary school, until she started taking full-time classes for a degree in Christian Life Coaching and Mentoring.
Then Ambit came along. "I didn't want to take on anything else," Kathleen says. "However, the Lord always has plans for us that we least expect."
A Natural at Saving Energy
Kathleen saw an Ambit Energy booth at the Broome County Fair in New York, and knew her husband would be interested. He's always had a thing for saving energy. "When I was growing up, we didn't have much money," Duane remembers. "We were constantly being told to turn off the lights and the TV, and it stuck. So when I learned we could save people money on energy through Ambit, I was in."
"I started helping Duane because we do everything together," Kathleen says. Neither of them had high expectations – at the start. "We went to AMBITION just three weeks after we joined, and our expectations soared," Duane says. "However, we didn't start really making money until we started following the system."
The "Why" Works
"I can't stress enough the importance of your "Why," Duane says. "It needs to be strong enough to get you through the rough spots. For us, it's being able to help people in need. God has given us this opportunity to give back to our country, whether through Christian camps or churches or natural disasters."
Kathleen adds they just want to help where and when it's needed most. "The Lord will give us the direction," she says. "We just need to work hard and listen."
It's the People
As their team grows, the Fetherbays' goals become clearer. "Now that we're no longer concerned about retirement, we're able to help others," Duane says. "In fact, our most valuable achievements are the wonderful relationships we've developed with people we never would have met otherwise." Kathleen couldn't agree more. "The one thing we enjoy most is helping others the way we were helped. We set up lots of phone calls and personal one-on-one time. We encourage our team to participate in the weekly Business Presentations and to reach out to guests. We even meet with Consultants who aren't even on our team. We can never go wrong by helping someone reach their goals in Ambit."
The New Plan: More Time Together
"I hope to leave my Lockheed Martin job and work with Kathleen on Ambit full-time by January of 2014," Duane says with a smile. "I can spend more time teaching new Consultants the business, and spend a lot more time with my wife. After all, what could be better than spending more time with the person you love the most?"
Our "Why":
Financial freedom, and to be able to help others.

Time spent working our Ambit business:
Every waking moment – okay, maybe not all, but close. Every second counts.

The single most effective success tool, factor or influence for growing our business:
Plugging into our upline leaders and talking to them daily.

Our favorite thing about AMBITION:
The guest speakers and meeting with the Corporate staff members who support us.

Thanks to the five SCs who helped us reach EC:
Mario Taffera, Clinton Bachert, Scott Stange, Marco Perfilio and Kevin Seyer
---
Featured Consultant
At Ambit Energy, we're inspired, proud, and even awed by the success stories we hear from our Consultants every day. Learn what motivates some of our top Consultants, read why they decided that Ambit was the right company at the right time, and maybe even pick up some inspiring tips to help you build your own business and achieve a similar level of success!