From Zero Opportunities to Endless Possibilities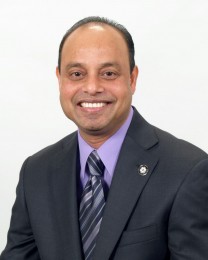 For a young man with big dreams and a burning desire for success, staying in his native country of Bangladesh meant living with a lot of frustration and thoughts of what might have been. For Mohammed Alam, then, the only choice was to come to America for chance at a better life. Although it took him five tries to get approved, getting his student visa proved to be the easiest part of his journey. "My family kept telling me to move on with my life in Bangladesh," Mohammed says. "But I chose not to listen.
On his third day of classes at Wichita State University in Kansas, Mohammed came down with malaria and was hospitalized. Eventually, he was able to get back to classes, but needed to find a job – quick. "With medical bills, tuition and everything else, my life was running like a broken-down Yugo." When he finally got a job, with just $50 left in his pocket, Mohammed told himself, "There has to be another way."
Success, Failure – Repeat
After college, Mohammed went through a number of jobs, some simultaneously. "I was a waiter, grocery stock boy and car salesmen," he remembers. "Then, in 1998, I started my first business." Within just three years, he was operating 13 retail stores and two restaurants. But the 9/11 attack on New York brought it all to a grinding halt.
Knowing he wanted to continue being his own boss, Mohammed got involved in real estate. Once again, he built up a great business only to see it come tumbling down. "I was doing very well – until the mortgage meltdown in 2008."
Ambit to the Rescue
One day, Mohammed got a call from a good friend who asked him to look at a video. "I was skeptical to even watch it," he says, "but that video was a huge eye-opener. I instantly knew this was exactly the opportunity I'd been looking for." With a wife and two almost-teenage children, Ambit came along at just the right time.
Although starting his Ambit business part-time, Mohammed gave himself a full-time goal: "To pay off my debt, become financially free, secure my children's college fund and help others around the world less fortunate." His daughter brought it all home for him when she told her dad she wanted to attend Stanford or Princeton. "But if I don't get a scholarship," she asked, wide-eyed, "would you be able to send me there?" That brought tears to Mohammed's eyes – and much-needed motivation. Big Dreams Coming True
Today, as an Executive Consultant, Mohammed has all of his expenses taken care of – and more. "Many times, my team and I faced difficulties and challenges," he says, "but we never quit. Now I feel like, if I put my mind to it, I can accomplish anything.
"He's also determined to help others succeed. "As I build my business, I want to make other Consultants better by teaching whatever I've learned, and helping them through their troubles and difficulties," Mohammed says. "I want to empower them by taking them step by step through their Ambit journey."
My "Why":
I want to travel around the world with my family and go to Mecca for Pilgrimage and Hajj.

Time spent working my Ambit business:
Beginning in May of 2011, I've been working on Ambit full-time.

The single most effective success tool, factor or influence for growing my business:
Becoming very persistent and talking to people every day about the Ambit Opportunity, no matter where you go or what you're doing.

My favorite thing about AMBITION:
I get to meet highly motivated and ambitious individuals who are making a positive change in their lives and the lives of others.

Thanks to the five SCs who helped me reach EC:
Joe Bullard, Rehana Khanam, Simon D'Rozario, Gloria Garcia and Tariq Ismail.
---
Featured Consultant
At Ambit Energy, we're inspired, proud, and even awed by the success stories we hear from our Consultants every day. Learn what motivates some of our top Consultants, read why they decided that Ambit was the right company at the right time, and maybe even pick up some inspiring tips to help you build your own business and achieve a similar level of success!