Getting in on the Ground Floor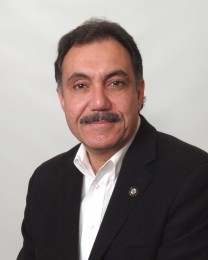 Peter La China worked in building and real estate, and has learned a thing or two about the importance of building on a business with a firm foundation. When he was ready to look for a to work smarter, his friend and former business associate Shawn Cornett told him about Ambit. "I was one of the first to hear about Ambit opening in the New York City area back in 2007, and knew I could be one of the early pioneers of the Ambit Business Model," Peter says.
Peter's experience with home building and marketing an energy saving product appealed to his instincts as a business owner. And the dreamer in him saw a chance to earn the income he needed to build not only a secure financial future, but also the perfect home he'd always wanted for himself and his family.
"I look at Ambit as an awesome adventure and blessing to be part of their future and their success," he says.
Hammering Out A Plan
While some of his family and friends were negative, Peter stuck to his plan. He worked up to 20 hours a week, and followed the Ambit system. This helped him to develop leaders in his team, and promote more quickly. He points out that "Developing leaders is how you can live your dreams and enjoy financial freedom."
Peter also found himself inspired by his success, and the achievements of others. "I learned to dream bigger dreams beyond the ones I had, and give my partners the confidence they can win, too. I want to build my dream home and reach my fullest potential in this lifetime and in Ambit Energy. I want to be a bigger blessing to my family and my church."
As he looks forward to the next steps in his Ambit career, Peter plans to be part of every new market the company opens, and improve his leadership skills to include training.
Tools For Fellow Consultants
Peter has a few key tips for fellow Consultants. He believes that personal commitment, following the system and being sure to meet with new Customers and Consultants are all essential to building success. Leading by example is a great way to communicate your best techniques as well.
He also recommends visiting AMBITION. "It's great to meet people from every part of 'Ambitland' and hear the personal story behind their success," Peter claims.
As he looks ahead, Peter states "I am up for the challenge of going to greater heights in my business and personal development. Greater and greater success is just ahead of me as an Executive Consultant in the fastest-growing business in the U.S."
It's simple. For Peter, Ambit has been a chance to dream, and to dream bigger than he ever thought possible.
My "Why?"
I would like to have a Dream Home built and be the person I was meant to become; to reach my fullest potential in this lifetime and in Ambit Energy.
Time spent working my Ambit business:
I spend 20 hours or more weekly. I'm looking forward to travel to the west coast to build the business there too.

What was your single most-effective Success Tool, factor or influence for growing your business?
Personal commitment, following the system and Success in meeting new partners, personal development.
Name your favorite thing about AMBITION:\t
Meeting people from every part of Ambit land and the personal story behind their success.
Thanks to the five SCs who helped me reach EC.
Mayer Leonorovitz, David Rapaport, Sonia Velez, Joffre Maguez, and Ayo Andra Deas
---
Featured Consultant
At Ambit Energy, we're inspired, proud, and even awed by the success stories we hear from our Consultants every day. Learn what motivates some of our top Consultants, read why they decided that Ambit was the right company at the right time, and maybe even pick up some inspiring tips to help you build your own business and achieve a similar level of success!