Getting the Word About Ambit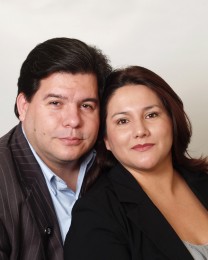 Eduardo Teixeria's work as a Publications Director for a major editorial company has taken him all over the world. He's lived in Brazil, Chile, Argentina and, most recently, Dallas, Texas. But despite all his travels, it was a visit from a friend that introduced him to the opportunity of a lifetime.
"A friend of mine, SC Armando Burton, came down from Oklahoma just to show me the Ambit business presentation," Eduardo says. "I was impressed by the power of residual income, the idea of being able to retire young, and helping others to do the same."
Once he'd gotten the word about Ambit, Eduardo was quick to share it with family and friends. "They thought it was something different, but they have always trusted and respected my decisions. Now they're very happy that I've had great results in the business."
Translating his success into results for others
Eduardo's bilingual language abilities are an important asset for him and his team. "Many of my Consultants are Latinos who are not fluent in English. As a result, I need to train them a bit more. Nevertheless, they are willing to learn and we are building a strong, solid group. My happiness and satisfaction comes from seeing them succeed. They see me as a leader, their friend and someone they can count on."
And, while being an Executive Consultant has allowed Eduardo to mentor and develop others, he's also learned a great deal himself from his experiences. "Thanks to Ambit, now I can organize my time. I've learned how to build a strong network marketing team," he says. His advice for new Consultants is simple, too. "Learn the business as if your life depended on it. Look for a successful mentor. Set short- and long-term goals, and evaluate your goals constantly."
Eduardo is ready to editorialize on behalf of AMBITION. "I think it's fundamental for everyone to attend AMBITION. You can see the difference in the minds of Consultants before and after AMBITION—they come out with a great desire to succeed. This is why I encourage my entire team to attend."
Writing the next chapter in a success story
One of Eduardo's great accomplishments is being able to make Ambit a full-time career. "I get to work alongside my wife Yazmin and spend more quality time with my kids." But he sees an even brighter future with Ambit. "One of my goals is to develop new leaders who share my vision of growth. In the next five years, I want to create a strong group within my team that is capable of giving one-on-one presentations and greatly increasing the number of Consultants in my business."
Eduardo also hopes to expand his ability to help others beyond Ambit. "In the future I would like to help different charities in South and Central America, especially orphans and the elderly."
It's just one more example of how Eduardo Teixeria is writing a happy ending, not just for himself, but for countless others in the Ambit family and beyond.

My "Why?":
Liberty.
Time spent working Ambit:
Approximately between 30 and 40 hours a week.
Most-effective Success Tool, factor or influence for growing the Ambit business.
My perseverance is what has been the most effective, and what influenced the most in my growth has been the fact I was fortunate to have a great mentor.
Favorite thing about AMBITION:
The Event on Saturday Evening was my favorite; The Award Ceremony, the Recognitions, the Different Testimonies and John Maxwell.
Thanks to the five Senior Consultants who helped in the journey to become an EC:
Aline Hernandez, Mendy Sales, Judith Serrano, Alicia Lagunes, and Juana Facundo
---
Featured Consultant
At Ambit Energy, we're inspired, proud, and even awed by the success stories we hear from our Consultants every day. Learn what motivates some of our top Consultants, read why they decided that Ambit was the right company at the right time, and maybe even pick up some inspiring tips to help you build your own business and achieve a similar level of success!