Goodbye Corporate – Hello, Family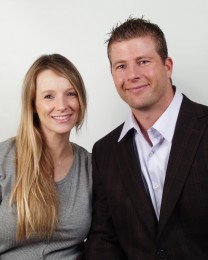 WORKIN' FOR THE MAN
Before he began his journey to Executive Consultant with Ambit almost four years ago, Aaron Spina was working 60, sometimes 70 hours a week. (To put that in perspective for you, we only get 168 – and we're supposed to sleep 56 of them.) But in the corporate world, that's how you become a success.
"I made a lot of money, but all I did was work," says Aaron. "I was even working at times I shouldn't have been working. It got to the point where family events had to be planned around my work schedule – 'when can Aaron get off work?' We even ended up celebrating holidays on weird days."
Things started to change when Aaron and his wife Amanda had their first child. "When my daughter was born, I wanted more time at home," recalls Aaron. "I realized I was getting up at 5:30 in the morning when everyone was still asleep, and I was coming home at 8:00 at night when everybody was getting ready for bed. And I thought, 'if I keep on this path, I'll miss everything.'"
MOTHER KNOWS BEST
When his mom Esther [now one of only ten National Consultants] and brother David [see David's profile here] came to him with the Ambit Opportunity, Aaron gave them the typical answer: "I don't have time, I work too much."
"But Mom doesn't take 'no' for an answer, so she made me give her my credit card," chuckles Aaron. "That's how I got signed up."
And naturally, Aaron knows that Mom was right to sign him up. "Mom and David were doing well, and I just figured it was time to jump in."
GETTING THE BIZ GOING
The "down side" of going into a network marketing business with your mom and brother – as Aaron quickly found out – is that they were all covering the same territory.
"The market was dwindling, thanks to Mom and David," remembers Aaron. "What really sparked my business was hooking up with a buddy of mine in Killeen. He's a football coach down there, and a month after he signed up, we had 100 people show up to a meeting."
That jump start, plus a lot of hard work over the next eight months, gave Aaron the ability to say "goodbye" to the corporate world and focus on Ambit full time.
"Once you get your residuals high enough, you're good to go. This is NOT a 'get rich quick' program – it's a 'get rich over the long term' program.
"When you get to a high enough level – which might take a couple years to accomplish – your residuals just keep coming whether you're working or not, so everything you do on top is extra.
"But it's about much more than residuals and all that stuff – it's about working with good people, teamwork and helping others to be successful."
LIFE NOW
"When people ask me what I do, I tell them I'm a 'stay-at-home dad,'" laughs Aaron. "It used to be, the only thing I could remember was working – and time was just flying by.
"Now I'm able to watch my kids (4-year-old Kate and 7-month-old Luke) grow up. And no amount of money can match that experience."
Family and friends tell Aaron that he's "a totally different person" without all the stress of the corporate world. "No more having to hit my numbers or try to climb the ladder. Spending time with my wife and our kids, doing things around the house.
"And of course, building my business – on my own schedule."
TEEING UP NEW CUSTOMERS (& FRIENDS)
When you're the boss and making on your own schedule, it's easy to come up with new ways to talk about Ambit. Aaron sometimes does his networking on the golf course.
"I'll go out in the middle of the week, around mid-day," says Aaron. "They usually pair me up with a twosome or threesome, and usually somebody asks me what I'm doing on the golf course in the middle of the day. There's my intro to talking about Ambit – usually by the third hole or so.
"But it's really about going out there and making friends. The best people in your business are your friends – and it's fun to be around like-minded people, helping each other succeed."
Of course, Aaron knows very well that it's not only about making money. "There are lots of people making lots of money – it just takes putting in the work. But having an Ambit business allows you to work with people you want to work with, not like most of the corporate world where you're stuck with people randomly."
"Ambit is the exact opposite; it's a completely different mind-frame. We're here to help other people, saving them money and hopefully helping them succeed."
DOING THE WORK
According to Aaron, what's especially appealing about the Ambit Opportunity is that "you're not selling people on what they don't' need – everybody uses energy. And you HAVE to have it – lots of people make sure they pay their energy bill even before their mortgage."
And he strongly believes that you don't need an extensive background in network marketing, or even a large network of contacts to succeed.
"The average person like me, you don't need that stuff to be successful," asserts Aaron. "None of our family had those things – we built it up from zero customers and zero consultants.
Aaron offers the following tips to new consultants:
—"Do something every day. Even if you just talk to one person, ask them who their
energy provider is and if they want to save money."
—"Keep your 'doors open' all the time. You can't just work your business one day a
month, you've got to do it all the time."
—"Remember that you're not selling a product. You're convincing people to make a
\tswitch for something they need – and they can save money."
—"Lots of people end up making excuses as to why they can't start their own business,
\tsuch as 'they don't have enough time.' But I was working 60 to 70 hours! You need to
\tmake the time and put in the work to build your own success."
A REWARDING FUTURE
Like many of us, Aaron sees a bright future for Ambit: "The thing about Ambit is that we achieved that "fastest-growing company" title by operating in only three states!"
He's excited for the possibilities, too: "If I keep my Ambit business going until the usual retirement age of 65, I'll have 34 more years to work at it. It's a nice feeling to know that my family will always be taken care of."
For Aaron, it starts at the top. He's proud to call co-founders Jere Thompson and Chris Chambless "friends and not just business associates."
"The best friends I have, they've come from Ambit. And the best friends I haven't even met yet come from Ambit – it's like one big family."
And there was the time Aaron brought his daughter Kate to visit the call center. He laughs, remembering that "someone saw Kate and came up to us to ask if 'that's the baby who's always crying when you call in.'"
One big family, indeed!
---
Featured Consultant
At Ambit Energy, we're inspired, proud, and even awed by the success stories we hear from our Consultants every day. Learn what motivates some of our top Consultants, read why they decided that Ambit was the right company at the right time, and maybe even pick up some inspiring tips to help you build your own business and achieve a similar level of success!