"Have Faith & Plug In"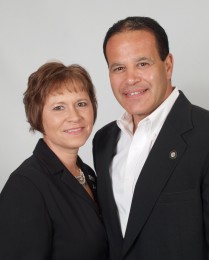 High school sweethearts Mike and Ellie Tornatore got married at 19. Mike joined the Air Force, which enabled them to travel throughout Europe.
After returning to New York state to start a family, the Tornatores launched and operated a janitorial service company and a swimming pool sales and service company. They soon found themselves working 14-hour days, six days a week just to pay the bills. With few options, Mike and Ellie began to look at other ways to earn income.
"We looked for something that was less physically demanding, and might help us start saving for retirement," says Mike. "Never in our wildest dreams had we considered network marketing - because we had already tried a couple without success."
One Determined Cousin
In March 2009, Mike's cousin RC Mary McSweeney began leaving excited voicemail messages about "an amazing business opportunity." But at the time, the Tornatores were preparing for another long, exhausting pool season, so they deleted the messages. However, Mary didn't give up. Three weeks later, she was in town for a meeting and insisted on stopping by.
Mike and Ellie were amazed as Mary and her colleague SC Chris Aiken shared the Ambit Opportunity. "Our eyes were opened to something we thought was gone from our lives - our dreams! Nothing to sell except savings, free energy and hope for people like us, caught in the rat race. It's a win-win situation!"
A Family Affair
The Tornatores were also impressed that their Ambit business would be willable to their children. Mike says: "That gave us comfort that we hadn't had in our adult lives - knowing that our financial future would be improved by residual income!"
Because their children - Erin (27), Michael (19) and Lonna (13) have always worked by their parents' side, it was "perfectly natural" that they follow them into the Ambit Energy business. Erin is a Regional Consultant, while Michael has reached the Senior Consultant level.
"All three agreed to do whatever it took to make Ambit work," says Mike. "With them on board, we knew we could move mountains."
Hard Work=Success
After 15 months of "persistent and consistent" efforts, the amount of the Tornatores' residual check began to help pay every bill they received. "We were in total awe," exclaims Ellie. "Our new mission was to tell everyone about Ambit and the Opportunity it held for every family in America." "At 5:00 p.m., one more Marketing Consultant signed up, triggering our fifth Senior Consultant," recalls Mike. "To receive our EC pin on stage that night, in front of our family, team and thousands of attendees, was surreal and so emotional for us."
Every Consultant Counts
Mike and Ellie say that they've been "blessed from the beginning with an amazing team. We're grateful for every MC who has entered our business, because each individual has helped us achieve our success."
They truly hope that their success will inspire others to hold onto their dreams: "We're like all the others who are sick and tired of being sick and tired, with no real hope for a secure retirement. But because of Ambit, we're able to dream again!"
The Tornatores look forward helping many families change their lives through the Ambit Opportunity.
Have Faith and Plug In
Mike and Ellie believe the best advice for Consultants is to stay committed. "Have faith in the system and your team. Stay plugged in by attending Business Presentations and every training within 300 miles."
But for the ultimate edge, they strongly recommend attending AMBITION.
"We came back from our first AMBITION filled with belief and enthusiasm. During the next 12 months, we saw a 4,833% increase and promoted to Senior Consultant shortly after."
When they attended the following year's AMBITION, it sparked even greater results and their best earnings year yet. And with their dedication, experience and support, Mike and Ellie Tornatore should have many more record-breaking years ahead.
---
Featured Consultant
At Ambit Energy, we're inspired, proud, and even awed by the success stories we hear from our Consultants every day. Learn what motivates some of our top Consultants, read why they decided that Ambit was the right company at the right time, and maybe even pick up some inspiring tips to help you build your own business and achieve a similar level of success!