Helping People in Brand-New Ways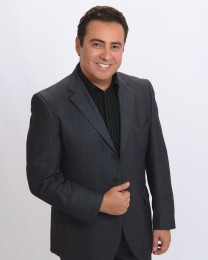 As a former pastor, Wilson Montoya spent years helping people in church. Today, as an Ambit Energy Executive Consultant, he helps them save money on their electric bill. "And not only that, I've helped many of them start an Ambit business to create additional income – in some cases, their sole source of income," says Wilson.
Born and raised in Chile, Wilson moved to Texas in 1996 to begin "a new life."He started to work as a pastor in 1998, and "really enjoyed helping people and serving others."

A NEW WAY TO HELP
It was about a decade later when he found a brand-new way to help people.

"Ambit came along in 2009, when I was working as a teacher," remembers Wilson. "During that time, I was helping at a religious radio station and doing a program with David and Arleen Belmar – who were the ones that eventually invited me to see the Ambit Opportunity!"
Although he was "skeptical at the beginning," Wilson is very grateful that he decided to start his own Ambit business.

"I see that most people are eager to save money on their electric bill, but they don't know how," says Wilson. "Now I know how to help them!"
"A SECURE JOB"
Wilson's family always saw him as "a dreamer." His wife was extremely skeptical as he got his business started.
"It's interesting how every single one of them started to believe in what I was doing, as they saw the results," laughs Wilson. "But they believe now more than ever. Even my mom, who used to encourage me to find a 'secure job,' is now a Senior Consultant!"
In an economy with many people struggling, Wilson believes that "there is no job out there that we can consider truly 'secure' – but Ambit has provided me with the stability and financial freedom that I've always dreamed of."
WAY BEYOND "FREE ENERGY"
When he first got involved with Ambit, the only thing Wilson wanted was to get free energy. "But once I 'got it,' I thought – 'hey, why not get focused and make some money with this business? And the rest is just a huge blessing."
"The weekly bonuses and residual income are definitely much more than I expected – sometimes it's hard to keep track of them!"

Wilson now works Ambit full-time, and truly enjoys being able to help others. "It's wonderful to see entire families change their financial situation – and at the same time – it's wonderful to see them helping others too."

He is very proud of his "incredible" team – and has "learned so much from them." Although Wilson himself had no experience with network marketing before, some of his team members did – "and they were awesome in encouraging me and their teams as well."
SUCCESS & FUTURE GOALS
"This year will be the first time that I'm going to go on vacation without worrying about bringing in income while we're gone," says Wilson. "It's amazing just to think about how in this business, you can take a little break and still have an income. Hard to believe, but it's absolutely true!"

Wilson's next goal is the extra bonus for Executive Consultants. "We only have one year to accomplish that, but while I work for that goal, I will continue to train and teach others on how they can become Executives Consultants as well!"
Beyond his near-term goals, Wilson – like most Ambit Consultants – continues to work toward financial freedom, having more time to spend with his family, and becoming a National Consultant.
"Why not?" asks Wilson. "Everything is possible when you set a goal in your mind first, dream about it, and then simply do as much as possible to achieve that goal. And before you know it, you've already made it!"
IT CAN WORK FOR YOU, TOO
Wilson preaches "focus, focus and focus" as one of the major tools for success. "Every time someone else tried to invite me to another network marketing business, I very politely told them that I couldn't join because I would lose my focus."
"I learned that if I concentrate on a goal, it is always possible to accomplish it. By doing something else, I would lose my focus on my Ambit business, and I won't let that happen!"
It's that focus that has allowed Wilson to grow his Ambit business so successfully. "I went to Ambition 2009 as a Marketing Consultant, and the following year as a Senior Consultant. This year, I'm going as an Executive Consultant – and each time, it's a life-changing experience! I definitely advise everybody to attend!"
When it comes to "talking the talk" and "walking the walk," this former pastor clearly practices what he preaches. "If it worked for me, it can work for you!"
---
Featured Consultant
At Ambit Energy, we're inspired, proud, and even awed by the success stories we hear from our Consultants every day. Learn what motivates some of our top Consultants, read why they decided that Ambit was the right company at the right time, and maybe even pick up some inspiring tips to help you build your own business and achieve a similar level of success!