Her New Family- Ambit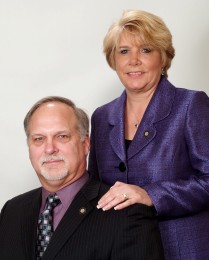 Debbie Burrell-Heckendorn was already a successful business owner before she discovered Ambit. As a partner in League City Properties,she'd built a successful career in real estate. Yet despite investing years in developing a network of clients and contacts,Debbie still worried about having enough money to pay for her daughter's education and fund a comfortable retirement.
In a remarkable twist of fate,she learned about AMBIT the morning of her grand opening party for her real estate office. Chris Atkinson,a good friend and co-worker,took her to a small Business Opportunity Meeting. Debbie liked what she heard and couldn't wait to sign on the dotted line. Three of her guests told her that if she committed to working for AMBIT for the next 600 days,she could be in a position to retire for the rest of her life. Debbie thought it sounded too good to be true. "I asked what the catch was. They told me if I worked four-to-five hours a week and followed the system it would work." Debbie decided she'd give Ambit a try.
The biggest sale of her career
"The 600-day Plan really worked for me," Debbie says. "A little over two years after joining Ambit,I was able to sell my real estate company to my partner. My family thought I was nuts,but now most of them are on board with Ambit and making their dreams come true!"
Debbie's real inspiration for her AMBIT success is her daughter. "My 'Why' has always been my daughter. Because of AMBIT she is majoring in Fashion at one of the Top Three universities in the US. She was able to go to Florence,Italy to study abroad and is living her dream."
A new household for an ex-real estate professional
AMBIT has given Debbie more than just a successful career. It's given her a new family. "I met Bruce through AMBIT and dated him for two years before we got married. Between the two of us we now have two daughters,four boys and seven grandkids. We look forward to helping them become financially free with AMBIT,too.
Now, with a new husband and new family, Debbie looks to the future. "Bruce was able to retire early from Dow Chemical after working there for 25 years. Our goal is to travel the world and live out our dreams and help as many others as possible.Debbie credits AMBITION with helping her define her goals. "After listening to John Maxwell talk about Having a Purpose, Bruce & I sat down and wrote down our goals. That's when success started to happen."
Of course,there have been sad times,too. Debbie's father passed away in 2010,but even in these circumstances she was grateful for AMBIT. "Because of AMBIT,I had the freedom to spend time with him in the hospital during the last five or six weeks of his life and didn't have to worry about where the money was going to come from to pay my bills.."
Her advice to new Consultants is simple. "Define your why and set goals. . If your why is not big enough you won't do what you need to do in this business." And Debbie would know. After all, she's turned her "Why" into major success.
My "Why?"
To create a legacy for our family so that our grandkid's kids will never have to worry about anything ever!
Time Spent working Ambit
2-3 hours a day
What was your single most-effective Success Tool, factor or influence for growing your business?
The best tool we use is the magazine and www.whyambitworks
Name your favorite thing about AMBITION.
The Excitement that's is in the air
Who are your five SCs who helped you reach EC?
Angie Platt, Bruce & Sharron Woods, Bill Rachner , Justin Langford and Bruce Heckendorn.
---
Featured Consultant
At Ambit Energy, we're inspired, proud, and even awed by the success stories we hear from our Consultants every day. Learn what motivates some of our top Consultants, read why they decided that Ambit was the right company at the right time, and maybe even pick up some inspiring tips to help you build your own business and achieve a similar level of success!