Hunting for a New Opportunity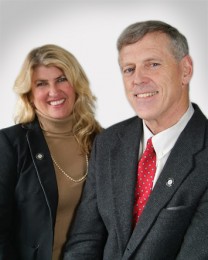 Jake Ensign fit as much living into the first forty-odd years of his life as most people do in twice that time. He served in the U.S. Navy, earned his geology degree, worked in the oil business, and was part owner of a pharmacy before retiring young to pursue his hobbies of bow hunting and fishing. He also decided to try a real adventure—marriage—for the first time.
"My fiancée was approached by Jim and Kim Mason. For whatever reason, I elected to listen to the presentation. After several years of retirement, I was looking for something to challenge me, and Ambit caught my interest." While Nancy was less interested, Jake decided to dive in full-speed ahead.
"I was just intrigued by the long-term potential of the business model," Jake says. "I didn't really have expectations, but it's been very satisfying to validate my initial evaluation of the Ambit opportunity."
The Power Of Persistence
For Jake and Nancy, Ambit has meant additional confidence in their financial security and a greater appreciation for his sense of persistence. "I take satisfaction in proving some of my earliest critics wrong," Jake says. "It's amusing to watch their body language change when they ask how things are going and I share my recent results or talk about my trip to New Zealand financed with Ambit income."
As for the future, the Ensigns hope to develop an increasing alternative stream of income and to improve the quality of life enjoyed by their family and friends. "I believe Ambit gives them an opportunity for hope," he says. "I also look forward to the process of self-actualization. Ambit has given me additional training aids in the form of CDs, books, meetings and so forth that constantly add to the person I am."
Making A Positive Difference
In addition to his own personal growth and his family's financial well-being, Jake works hard to help his team members reach their potential. "I want my Consultants to be factual, never exaggerate and focus on what we can do to improve our quality of life." He hopes his Executive Consultant status will help him provide credibility as he works to expand his network.
He also has a few words of advice for his fellow Consultants based on his own experience. "In the words of Winston Churchill, 'never, never, never give up.'" He also recommends attending AMBITION to network with other Consultants.
That's advice worth hearing from someone who's been persistent enough to find success in multiple careers and industries before achieving the rank of Executive Consultant with Ambit.
Our "Why":
Staying ahead of inflation.
Time spent working our Ambit business:
I work my business while Nancy is at work.
What was your single most-effective Success Tool, factor or influence for growing your business?
The one on one presentation seems to work the best.
Name your favorite thing about AMBITION:
My favorite aspect of Ambition is the ability to network with other consultants.
Thanks to the five SCs who helped in our promotion to Executive Consultant.
Ed and Tracy Zdarko, Ron and Korinne Minor, Ray and Crystal Foster, Bill and Rae Ann Emminger, & Rich and MJ Fryman
---
Featured Consultant
At Ambit Energy, we're inspired, proud, and even awed by the success stories we hear from our Consultants every day. Learn what motivates some of our top Consultants, read why they decided that Ambit was the right company at the right time, and maybe even pick up some inspiring tips to help you build your own business and achieve a similar level of success!