I Saw the Vision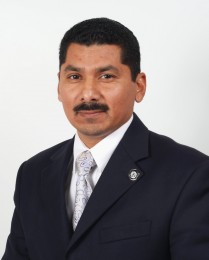 After escaping his war-torn home country of El Salvador, Genaro Aguillon was in search of a fresh start in the Land of Opportunity. Genaro arrived in Los Angeles, California in 1985 with the goal of earning a living with dignity and integrity.

In LA, Genaro had multiple occupations - ranging from a painter and carpenter to working in human resources - with stops at various companies. At any given time, he worked two or three jobs just to make ends meet.
Time for a Change
Before joining Ambit, Genaro found himself struggling with debt. He was frustrated with his situation and vowed to make a change.
"I was in a very frustrating situation with many credit card debts," Genaro said. "I felt like a sinking boat in the middle of the ocean. Thank God the Ambit Opportunity came into my life at the moment me and my family needed it the most."
After realizing there had to be something better than the Corporate America merry-go-round, Genaro "saw the vision" for Ambit Energy. However, the person that Genaro cared for the most was still skeptical. Undeterred, he spent six full months convincing his wife that the Opportunity was legitimate.
"I wanted to join Ambit but my wife was opposed," Genaro explained. "I saw the vision. I wanted to join even if that meant taking the risk that my wife would get mad at me. I explained to her that it was electricity and that everyone used it. After approximately six months, my wife said yes because she saw the results were real. After a while, she was able to quit working."
Embrace the opportunity
It all started when Genaro decided to pick up the phone and embrace the Ambit Opportunity.
"I thank Bonita Hall and her husband who gave me their Ambit business card - which I kept for six months," Genaro said. "Then I called Bonita and asked her how I could earn free energy. In October, I got an invitation to a Business Presentation where the residual income figures seemed impressive."
He realized quickly that Ambit could be more than just a part time endeavor.
"My initial expectation was to work to get the weekly pay check, with the hope to start receiving residual income in the future," he said. "After three months of joining Ambit, I decided to fire my employers to work full time on my Ambit business.
More time for God and family
"I don't want to depend on an employer," Genaro continued. "I want to have more time for God and my family. With Ambit, I can have the time and money."
Genaro's journey didn't come without its fair share of adversity. As evidenced by his wife's initial stance, the reaction from his friends and family was chilly.
"At the beginning they were opposed, they said it would not work," he said. "Now all of them are Consultants."
Despite the challenge of adjusting to the technology necessary to succeed in this business, Genaro has worked hard learn how to take advantage of the tools at his disposal.
"I didn't know how to use a computer," Genaro admitted. "When I realized that one of the tools was to have a laptop, I had to buy one - despite not knowing how to use it. As time passed by I have learned a lot."
Since joining Ambit, Genaro has found a much better outlook on life. He believes things will only continue to get better as he grows with Ambit.
"Every day is better," Genaro said. "My plans are to continue helping my team and be a blessing for others."
"I am starting to live the American Dream with my family, and having a lifestyle like never before."
My "Why":
I didn't want to get old depending on a job.
Time spent working the Ambit Business:
4 to 8 hours daily.
The single most-effective Success Tool, factor or influence for growing the Ambit business:
Knowledge, experience and the EC title.
My favorite thing about AMBITION:
Everything.
Thanks to the five SC's who helped in the journey to becoming an Executive Consultant:
Rudy Lazo, Julian Aguillon, Carlos Flores, Yeni Tahuilan and Heidi Aguillon.
---
Featured Consultant
At Ambit Energy, we're inspired, proud, and even awed by the success stories we hear from our Consultants every day. Learn what motivates some of our top Consultants, read why they decided that Ambit was the right company at the right time, and maybe even pick up some inspiring tips to help you build your own business and achieve a similar level of success!