I will achieve financial freedom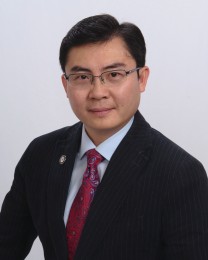 For Justin Zhang, achieving success in a variety of fields wasn't enough. He wanted more, and the potential to secure financial freedom with Ambit Energy was simply too enticing for Justin to pass up.
"The decision to take advantage of energy deregulation and join Ambit was a no-brainer," Justin said.
Before joining Ambit, Justin graduated with a bachelor's degree in accounting. He worked as an accountant, in IT and as a financial planner before trying his hand in the real estate market.
As a realtor, Justin excelled quickly and was consistently ranked among the top of his peers.
"In my first year as a realtor in late 2008, I was in the top five percent of producers in the entire Sacramento County of California," he said.
One Call Changed Everything
Even though Justin had seen his share of success, he wasn't prepared for the eye-opening possibilities presented by Ambit. Cong Zhao, a close friend of Justin's, called him to share his story. It didn't take long for Justin to jump at the opportunity.
"What impressed me most about Ambit Energy was its track record, and the ability to utilize the direct selling model to take full advantage of energy deregulation," he said. "What I like the most is how much I enjoy working the business."
Justin quickly saw his Ambit business grow even faster than he anticipated.
"When I started as a Consultant, I had the goal of achieving financial and time freedom in five years," Justin explained. "Through 14 months of consistent hard work and effort, I've put myself in the position to achieve that in well under five years.
"There's no doubt that I will achieve financial freedom."
I Learned Something about Myself
The initial challenges of starting your Ambit business can be an excellent teaching tool.
"I figured out how much I have to grow personally and professionally to excel with Ambit in terms of prospecting, presenting, training and leading a team of Consultants," Justin said.
Another challenge was dealing with the initial concern and hesitation he faced from his family and friends.
"I faced skepticism from many of my family and friends about my Ambit endeavor in the beginning," Justin said. "Now many of them are convinced that I can achieve substantial financial results."
Family Comes First
For Justin, being able to spend quality time with his family is the main force behind his success. Justin's wife and two daughters mean the world to him, and the financial freedom he covets would provide more time with the three people he cares for most.
"It's my goal to achieve financial and time freedom." Justin said. "To get out of the rat race, and spend quality time with my two lovely daughters and wife."
After reaching Executive Consultant in just 13 months, it's clear that Justin is well on his way to doing just that.

My "Why":
My "Why" is to achieve financial and time freedom, get out of the rat race and spend quality time with my two lovely daughters and wife.
Time spent working the Ambit Business:
25 hours a week.
The single most-effective Success Tool, factor or influence for growing the Ambit business:
I'm diligent in inviting prospects to weekly presentations.
My favorite thing about AMBITION:
Seeing people from all walks of life achieve success with Ambit.
The five SCs who helped me reach EC:
Hanh Nguyen, Wendy Voo, Lucky Nwokocha, Joel & Oriole Beland, and Chris & Stephanie Tham.
---
Featured Consultant
At Ambit Energy, we're inspired, proud, and even awed by the success stories we hear from our Consultants every day. Learn what motivates some of our top Consultants, read why they decided that Ambit was the right company at the right time, and maybe even pick up some inspiring tips to help you build your own business and achieve a similar level of success!