In a League of Her Own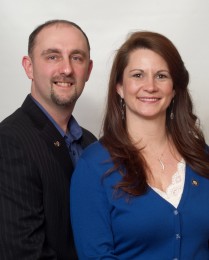 Michael and Stacey Dunkley live in the mountains of the Adirondacks in New York, surrounded by forests, streams, hills and other natural wonders. One of their chief joys is spending time outdoors with their daughter—skiing, hunting, fishing and hiking. Michael's job even involves the outdoors. He's worked for a lumber company for 24 years, and he also owns a small business that delivers landscaping products. Stacey runs a specialty nail salon that caters to people with diabetes and foot problems.
Despite being happy and successful, the Dunkley's knew that they faced challenges like retirement and paying for college, especially since their daughter dreamed of being a doctor. So it was only natural that they started looking for an option that would help them prepare for their future.
"I heard about AMBIT at work and Googled it," Michael says. "It sounded interesting, because there were no quotas to meet. I'd heard a Rich Schloss was doing well in our area. I had to deliver some lumber to him, and I asked him about AMBIT."
That same night, the Dunkleys and EC Rich Schloss got together. It turned out that Stacey and Rich knew each other from high school, and the couple was ready to sign up after Rich showed them the business.
Blazing a trail to success
The Dunkleys started off with a bit of an advantage in that Stacey's family had worked in multilevel marketing before. "When we showed them the AMBIT plan, they jumped onboard, even her 80-year-old grandparents. We knew this was a no-brainer, and we hit the road running fast," Michael says. "We fast-tracked to RC and SC, and had our goal to be EC before our two-year mark," he continues. "I've been able to buy my dream car, and we expect to have a college and retirement plan in place before we are 47 years old."
Of course, there have been challenges along the way. "We don't have enough to time to get to everyone we want to share this opportunity with. It's hard to get some potentials to meetings or to call back. And the first time I had to speak in front of a large group I lost my voice." Reaching new heights
The Dunkleys have learned from their early experiences. "We've just try to stay consistent and be persistent. I love speaking and can't get enough of it now," Michael says. The couple works hard to always be available for the Consultants, going out of their ways for one-on-ones, three-way meetings, and doing trainings, whatever they can to help insure the success of team members. "We have found we love helping others."
Best of all, thanks to AMBIT, the Dunkleys see a future that's as bright and limitless as a sunrise over the Adirondacks.
My "Why?"
Buy back more of our time and be able to enjoy life without having to chase the $ so hard.
What time do you spend on your Ambit business?
Nights after 5pm and weekends.
What was your single most-effective Success Tool, factor or influence for growing your business?
Strong Commitment, perseverance and a great upline.
Name your favorite thing about AMBITION.
John Maxwell and the Energy within Ambit
Who are your five SCs who helped you reach EC?
Mike West, Jim West, Kyle Lyles, W. L. McGinn, Patrick Cullen
---
Featured Consultant
At Ambit Energy, we're inspired, proud, and even awed by the success stories we hear from our Consultants every day. Learn what motivates some of our top Consultants, read why they decided that Ambit was the right company at the right time, and maybe even pick up some inspiring tips to help you build your own business and achieve a similar level of success!